Youth housed at the Sophia Juvenile Holding Centre were on Tuesday encouraged to "reflect, refocus, and plan for tomorrow," by local personal trainer and physiotherapist O'Ryan Joseph, who shared how he overcame the challenges which once led him down a destructive path.
The interactive session between Joseph, the lead trainer at Space Gym and the youth, was facilitated by EPIC Guyana, a local not-for-profit organization, which for several months now, has committed time and effort towards the capacity building of those housed at the juvenile centre.
According to a media bulletin, it is EPIC's belief that irrespective of their individual pre-incarceration stories, being locked up is traumatizing for anyone. For children, however, this experience can be particularly difficult and destructive in many ways, and as such, EPIC hosts weekly workshops at the centre, routinely inviting people with experiences that are relatable to the children.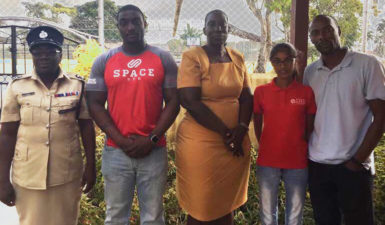 Last week's session featured Joseph, a Guyanese-born personal trainer, who shared his past experiences of dealing with unhealthy associations, poor decision making, and youthful indiscretions, and how he moved from a self-destructive path to where he is today.
They learned about his childhood impulse towards the streets, where he developed dangerous associations with gangs and violence and where that led to, as well as the time spent in Afghanistan whilst serving in the US Army, where death and violence was a daily occurrence – inclusive of his own life-threatening injuries.
He also offered them some insight on his current life which includes a brutal work schedule. His day starts at 4 am and ends after 10.30 pm, all the while juggling his family life, with a young daughter.
"Essentially, O'Ryan's message was that whatever brought these children to this place in their life is, but a chance to reflect, refocus, and plan for tomorrow. The appreciation the children showed after the talk, it appeared that the message got through to many," the statement said.
Meanwhile, EPIC's Administrator Winston Martindale said that keeping these children re-enforced with positive messages which are relatable, is necessary to counteract years of abuse to their psyche created by negativity. Consistent with its mission, EPIC shall continue to host its weekly workshops, he added.
On a different note, the press release made mention of the challenges faced by the children, particularly as it relates to housing.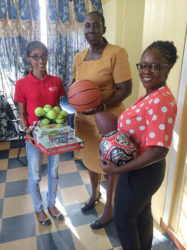 "The facility itself makes housing for children challenging but to add a modicum of comfortability to what is by any standard an extremely uncomfortable situation, EPIC reaches out to businesses, professionals, family, friends, and strangers to provide items or services the children are in need of. In addition to the workshops, this forms another of EPIC's core activities at the detention centre," the statement said.
In conjunction with the workshop, EPIC's Programme Director Surujdai Mukhram handed over sports equipment and board games to the centre's Administrator Yvette Sancho, compliments of an overseas-based Guyanese couple, William and Petita Welcome.
"Earlier this month, EPIC received a barrel filled with sports equipment, board games, linen, and footwear, courtesy of the Welcomes. Petita Welcome was moved to help when EPIC's Executive Director Brian Backer spoke to her about the existence of the child jail in Guyana and the needs of the children imprisoned there," EPIC stated.
Together, she and her husband William started gathering whatever they could to help, something they have always wanted to do, the release said.
"We have always been interested in helping in some way, and EPIC has provided us an opportunity to directly impact a solvable issue…. It does take a village, even if the community is separated by an ocean," she was quoted as saying.
Around the Web