Three persons have been detained in connection with the armed robbery committed on newspaper vendor Sebastian Ramsuchit and his family two Saturdays ago and they are expected to be placed on an identification tomorrow, according to Commander of 'A' Division Clifton Hicken.
Ramsuchit was gun butted and beaten to his head on March 25, when armed bandits invaded his Lot 21 'CC' Eccles, East Bank Demerara home, demanding cash and other valuables.
His wife, Joyce Ramsuchit, 53, sustained a single gunshot wound to her right leg after she told the gunmen that her family had no cash to hand over. They were both taken to the George-town Public Hospital (GPH) where Ramsuchit was treated and sent away, and his wife underwent emergency surgery. She was later discharged.
The gunmen managed to escape with a black bag containing an undisclosed amount of cash, an undisclosed amount of jewellery, a laptop computer and an iPod.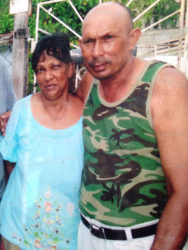 Stabroek News had previously reported that Ramsuchit had just exited his house to carry out his normal morning duty of purchasing newspapers which he distributes to several shops and companies in and around his community when he was confronted by the bandits, who were hiding behind a railing which surrounds his entryway.
The men gun butted Ramsuchit and relieved him of the house keys after which they dragged him into the house demanding money. They then ransacked the rooms, awakening his wife and his son Cheddie Ramsuchit, 23, a final year medical student of the University of Guyana, whilst continuously demanding money.
Ramsuchit had explained, "I just open the side door and I put on the light and did talking to them parrots when they just raise up from behind the railing and start hit me one after the other in my head.
"One of them start search my pockets and take out the money I had in my pockets to go make payments … One side had about $8,000 and the other side $10,000. The other one went and wake up my son and wife because they did sleeping… He tumble up all over, all the wardrobe and so although she tell he she don't have no money all we does do is lil newspaper business," he had said.
Ramsuchit said one of the gunmen fired a shot which hit Joyce to her leg. "After he shoot she and didn't moving, she point and tell him look the money deh in the black bag behind the door and he grabbed it along with the other things and they run away," he said.
It is believed that the gunmen fled through the backyard and scaled the fence, the same means by which they might have entered the premises.
After the gunmen fled the scene, Ramsuchit's son called the police and neighbours informing them of the robbery.
Around the Web