Ten years after a furore over the desecrating of world renowned Guyanese artist, Aubrey Williams' murals at the Cheddi Jagan International Airport (CJIA), Timehri, the National Trust of Guyana had to be called in to avoid a recurrence.
Stabroek News was reliably informed that the current US$150M CJIA expansion project did not take the preservation of the murals into consideration when the new design was drawn up and they were to be demolished.
It was only after recent objections by persons, including staff at the airport that the National Trust was called in for meetings to advise on a way forward;  either preserve the murals or if "it was ok to demolish them."
There are five murals at the CJIA and back in 2007, two were covered with concrete and other material in order to accommodate a new roof which was designed to prevent water from leaking into the immigration department.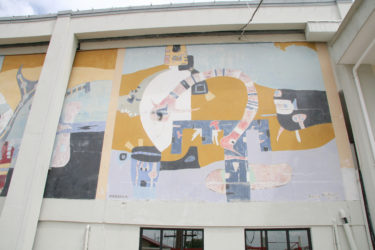 The two which had been largely obscured face the runway, two more are on the western side close to the immigration department, and one is in the departure area. They were done on what were previously the VIP open-air verandah's walls and greeted visitors and returning Guyanese on disembarkation.
Among the local art community this created much public outcry in 2007.
Guyana's then Ambassador to UNESCO, Professor David Dabydeen voiced his indignation, "I was astonished at this act of vandalism. I just couldn't believe that we could allow Philistine contractors to pour concrete over a mural of national significance. It's the Guyanese equivalent of the destruction of the Elgin Marbles."
He was livid about the degradation of what was the first native art that greeted visitors arriving in Guyana. "Apart from a blow to art, probably unparalleled in the Anglophone Caribbean, it is, of course, a huge insult to our Amerindian peoples, since Williams deliberately used indigenous symbolism in the art, so that visitors on arrival at the airport would be reminded of the living existence of our first peoples."
Others also expressed dismay with then curator of the National Gallery at Castellani House, Elfreda Bissember, stating how  "sickened with disbelief and very angry," she was . "It pains me to talk, let alone write about it. As it is vandalised at Timehri, with a rich irony, Williams's work is feted in London," she had told this newspaper then.
Her view has been echoed now by a well-known historian and artist who said that he recently learnt of the demolition plans and was furious that persons with knowledge of the artwork were not called in during the planning and design phase for the expansion of the airport. He preferred to remain anonymous.
"I had the wind almost sucked out me when I learned weeks ago that the plan was to have them all demolished to facilitate the new airport…it seemed déjà vu. Here we are 10 years later and it seems as if we are saying the same things again. When is anyone going to consult before making a decision and then have to come back to the drawing board over a protest or something worse?" another source lamented.
"I am hoping that President David Granger, not just as president but as a historian and someone who knows the value of preservation of history through arts, could intervene soonest and have them relook at this design, specifically the terminal area that will be affected…In other countries this would not be an issue, but it seems Guyana has lost itself and that is because it doesn't know its history; a history that is depicted through artwork of this kind," the source added.
Fate
Stabroek News contacted Chief Executive Officer of the CJIA, Ramesh Ghir, and the question of the fate of the murals was put to him. He informed that he could not speak on the plans for the airport, pertaining to the US$150M expansion or the murals and directed this newspaper to CJIA Project Manager, Carmichael Thorne and the National Trust.
When Thorne was contacted he in turn informed that he was not the person authorized to speak to the press and that Permanent Secretary of the Ministry of Public Infrastructure, Geoffrey Vaughn, should be contacted.
This newspaper reached out to Vaughn who then explained that he was responsible for the engineering and infrastructural aspects of the project and was not sure who to direct the Stabroek News to for details pertaining to design.
"How can they tell you me? I am responsible for the engineering works and the murals that you speak of would fall under design and such…that aspect has nothing to do with me," he said.
However, in an attempt to assist "in the best way" he could, he said that he would make the requisite checks to find out not only what was the status  of the murals but who would be the point person to discuss the matter with. He asked that he be called back on Friday last but despite several calls to his mobile number on that day, this newspaper was unable to reach him.
Calls were made to the Head of the National Trust, Nirvana Persaud who also said that she could not speak on the matter and pointed this newspaper back to the head of the CJIA authority.
But several inquiries revealed that had it not been for two staff members at the CJIA, the contracting company China Harbour and Engineering Corporation (CHEC), would have removed the murals and forged ahead with its current design plans.
"If you look at the current design no consideration was taken to preserve these works of art. I don't know if the persons responsible do not know the historical context or what but they were going to demolish (them) to make way for the new terminal.…It was one of the staff members who told them of the big hullaballoo, in 06 or 07, and asked if they wanted a repeat…because it would  not go down nice this time around," one source said.
"I cannot understand how things happen around here, you go ahead plan and design and the artwork that we can't place a value for or replace, you make no provisions for? They poured concrete over them the last time, took steel and drilled some big holes through them,  that they could not be saved and yet now they want to just do away with the others?" the source further questioned.
One artist pointed to Williams and his works saying that if the CJIA did not want his works to be part of its design, Castellani House or the Burrowes School of Arts would not hesitate to find a way to have them transferred to those locations. All in all, the overall objective would be to preserve the historical works of one of Guyana's greatest artists.
"It is not a problem if they don't want it, I am sure we would find a way to have it removed and taken somewhere where its value is known and will be cherished. But let us give them a chance because they might not have known, you know there are a lot of young persons there, let us wait and see what the outcome will be. I am sure that now the National Trust is involved it would be preserved, how though we all wait to see," he said.
Around the Web