A game of hide and seek turned deadly as a toddler from Paradise was accidentally electrocuted by a drop cord last Tuesday night.
Three-year-old Stephan Glen, of Seventh Street, Paradise Housing Scheme, East Coast Demerara, was electrocuted after he came into contact with the drop cord, while he was playing a game of hide and seek with his siblings.
The child's grandmother Beverly Glen, who recounted the fateful day, said that she and her grandchildren were home when Stephan's mother arrived and told the children that they were going on a school outing the following day.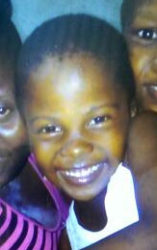 She said that Stephan and his siblings were so excited that they began to play a game of hide-and-go-seek.
Glen said she realized that something had gone wrong and  she took off her stove to go in search of her grandson.
The grandmother said as she entered the bedroom, she saw her grandson lying on the floor. "So I picked him up and started to press on his chest, he was still breathing, so me and his mother took him to the hospital" Glen said. The family member related that the incident occurred around 8 that night.
Glen said that normally her daughter would use the drop cord to charge her phone, and her grandson may have touched the cord when he went under the bed to hide.
The grandmother who was in tears, said that her grandson died at the Georgetown Public Hospital.  "They really tried with him but I believe if they had rubbed his chest he would have still been alive but I do not know hospital doctor procedure so I cannot say", Glen said.
Glen told Stabroek News that the trip to the Georgetown hospital was a long one. "The government needs to put hospitals closer and one that would be opened", Glen added.
The closest medical centres to Paradise are the Enmore Poly Clinic, Enterprise and Melanie Clinics which close around 4pm. Stephan, who was a first-year student of Nabaclis Nursery school is expected to be laid to rest on Wednesday.
Around the Web