An 82-year-old man met his demise during the wee hours of yesterday, after a fire of unknown origin erupted in his Kildonan, Corentyne, Berbice house.
The dead man has been identified as Rudolph Ross also known as 'Uncle Bruce.' The 3 am fire is suspected to have begun in the upper flat kitchen of the two storey Lot 14 Kildonan Village house.
According to neighbours, Ross resided in the three-bedroom, wooden and concrete house with one of his sons, who had returned to Guyana over a year ago to take care of him. The son, Colin Ross, was not at home at the time of the fire.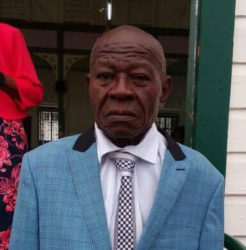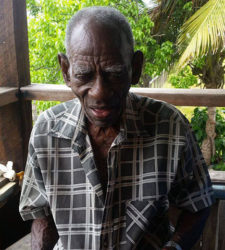 Commander of B Division Ian Amsterdam, when contacted, told Stabroek News that an investigation has been launched and Colin Ross was placed in custody around 1 pm yesterday. Amsterdam stated that investigators were working on "checking out the man's alibi".
Neighbours said the father and son were engaged in a heated argument on Sunday, according to reports.
Meanwhile, according to neighbours, around 3 am yesterday, they heard the octogenarian, a father of six, calling for help.
Brian Jackson, 41, who lives next door, told Stabroek News that he was watching television, when he heard Ross shouting for him. "I hear he calling, 'Brian! Help! Help!'" he said. "I look out and see the fire coming from he kitchen side. I run out fa help he, but I failed," the devastated man said.
Jackson had rushed out, grabbed a ladder and attempted to rescue Ross through the window he was calling out from. But the window had a safety iron grille, which he could not get past. Jackson then alerted other neighbours who immediately came out and formed a bucket brigade. However their efforts proved futile as well.
He told Stabroek News that Ross shouted for almost ten minutes straight, before his voice faded.
After the shouts from Ross stopped, residents then noticed that Jackson's house was in danger and as such began soaking it to prevent it from catching fire as well.
Residents said the fire service took approximately one hour to arrive. "Them come and only had to put out the fire, cause nothing else them couldn't do. Them couldn't save nothing then," one resident said.
Ross's body was later discovered on the eastern side of his home near a window.
He was described as a well-respected individual, who once served as overseer for the Bush Lot/Adventure Neighbour-hood Democratic Council.
His brother, Ivor Ross, 84, who also resides in Kildonan Village, explained to Stabroek News, that he is experiencing problems with his eyesight and his mobility. Therefore, when he heard shouts yesterday morning and got up to look through his window, he realised there was a fire, but did not know it was his brother's house.
"I went and sleep back then I received a call from one of my aunty, who told me that my brother house burn down and he died inside. I drop the phone and started to cry," he said.
He later estimated that his brother's house had been worth "millions of dollars", since it was fully furnished.
Rudolph Ross was the second oldest of ten siblings.
Around the Web