A miner succumbed to his injuries on Sunday afternoon, more than two weeks after he was beaten allegedly by his neighbour at Jonestown Access Street, Mahaica, East Coast Demerara (ECD), who has since fled after being charged with attempted murder and released on bail.
Dead is Courtney Porter, 49, a father of three of Lot 5 Jonestown, Mahaica, ECD.
The suspect, Forrester Gravesande, 47, of Lot 6 Jonestown, Mahaica, was arrested and charged with attempted murder on March 30. He appeared before Magistrate Wanda Fortune at the Mahaica Magistrate's Court and was initially remanded to prison. However, he was subsequently placed on $200,000 bail, although the court was told at that time that Porter was still hospitalised.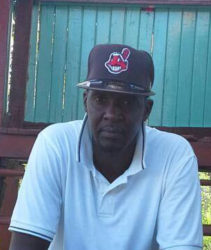 A police source told this newspaper last evening that several checks were made for the suspect at his house which proved futile. Information revealed that on the same day Porter was discharged from the hospital, the suspect reportedly left for the interior.
Porter's wife, Odette Porter, told Stabroek News yesterday that her husband had left home on the evening of March 25 to attend a wake. On his way to the wake, she said, he stopped to visit his mother who lives further down his street, when he met the suspect.
The woman said based on what she was told the suspect accused her husband of pulling at his wife's clothes and reportedly dealt him several lashes to his head with a piece of wood.
Porter's niece and sister who were in the vicinity pleaded in vain with the suspect to stop.
When Porter collapsed, he was transported to the hospital where he was admitted until his discharge last Tuesday. But owing to the extent of his injuries, he was not speaking.
On Sunday afternoon, around 14:50 hrs, Porter complained of feeling unwell and was taken to the Mahaicony Hospital where he died while receiving medical attention. "He started to complain about pain and we rub him down, but he start to panic for breath and we call a car and took him to the hospital where he died," Odette explained.
A post-mortem examination performed yesterday revealed that he died as a result of a fractured skull and neck and trauma to the brain.
Around the Web