A 29-year-old man died yesterday morning and two other persons were injured, when the car they were in toppled and ended up in a canal at Salem, East Bank Essequibo (EBE).
Dead is Marlon Gobin, a painter and cell phone technician of Lot 312 Parika, EBE.
The injured were identified as Ricky Ramnauth, 24, the owner and driver of the car, PVV 438 and another man whose name was given only as 'Abdul'.
The men were rescued from the vehicle by public-spirited citizens and rushed to the Leonora Cottage Hospital where Gobin was pronounced dead on arrival.
However, while 'Abdul' was treated and sent away, Ramnauth was admitted and later transferred to the West Demerara Regional Hospital, in a semi-unconscious state.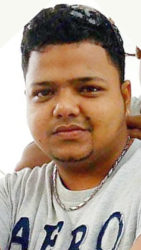 The accident occurred around 9.30 am.
In a press release, issued yesterday, the Guyana Police Force said enquiries disclosed that Gobin and 'Abdul' were occupants of the car which Ramnauth was driving south along the Salem Public Road, when he lost control.
"The vehicle veered west, turned turtle and ended up in a canal," the police said.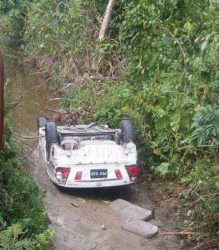 Gobin's father, Mohan Gobin called "Massive," told Stabroek News that he last saw his son alive around 4 am yesterday. "He was sitting outside the yard gaffing with his friends. I think was Ricky and somebody else, and I ask him if he ain't coming inside and he tell me just now," the elder Gobin said.
The grieving father explained that he later received a call informing him that Marlon had been in an accident. "I ask the person if they sure and they say yeah they know my son," he said, while adding that in disbelief he asked the person to hold while he checked to see if Marlon was in his room.
"I thought he come in and went and sleep, but when I check the bed neat like he didn't even sleep on it," Mohan said. He said that after he hung up the phone, persons in the area started to visit his home informing him of the accident also.
He immediately left for the scene and when he got there, he saw his son's body lying lifeless on the roadway. "…The car was in the trench," Mohan said.
The man was unable to say where his son was heading at the time of the accident. "Is only yesterday [Sunday] his mother fix the date for his wedding," he said, adding that his son had been scheduled to be married in November.
According to reports, the three men might have been imbibing prior to the incident. They were also reportedly speeding.
The body of Gobin is at the Ezekiel Funeral Home awaiting a post-mortem examination.
Around the Web