A Rose Hall Town fish vendor, accused of setting his house on fire after a heated argument with his wife, has gone missing and it is unclear whether he was burnt in the fire, or escaped, since he was alone at home at the time.
The two-storey wooden and concrete house was destroyed completely yesterday evening, leaving the woman and their three children homeless. A quickly formed bucket brigade and the fire service were not able to save anything.
According to Sarita Sewindra, also known as 'Semple,' 36, of Lot 232 Reef Section, Rose Hall Town, Corentyne, Berbice, she and her husband, Seenarine Cyril, 36, had a row yesterday afternoon, after which she left home with her children and headed to her aunt's house.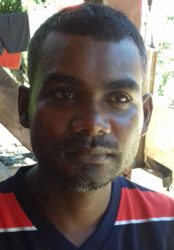 "One a me neighbour borrow me bicycle yesterday afternoon. So me left home and walk go see where he deh with the bicycle cause he na bring it back. But the boy wife say he mussy drunk and lost the bicycle, so me tell them that them go got to buy it back," Sewindra said. "Anyway when me come home me husband ask me where the bicycle and he start cuss that me lend me man the bicycle. All thing he a cuss and say, so after he a cuss, me come down and take them three children, cause them start cry, and gone."
She said that about 15 minutes after leaving home, she received a call that her house was on fire. "Around quarter to seven me get the call and run come. Some people say he deh in the house and some people say he gone," she added.
According to the woman, she truly believed that her husband was responsible for the fire. "Yes. He set the fire. Me left he in the house and the house been lock and everything," she stated.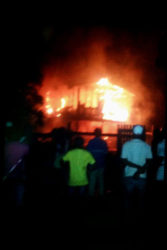 Sewindra said that her husband always enjoyed playing with fire and had repeatedly made threats in the past to burn the house down with her and their children inside.
"Christmas Eve day it catch fire from the blind. Me out it. Old year's night it catch fire from the step, one a them market thing and we out it," she explained. "He threaten me and he indeed burn down the house. He threaten me that when he leff me, he na go leff me wid nothing, me must walk and beg," Sewindra said. "He always say he go burn the house with abie inside. Thank God me take them children and walk out," the visibly-shaken woman said.
Neighbours said they saw the man in the house but were unsure if he escaped.
Sewindra said she called his phone, "and it deh on. "He na go burn he self. He mussy hide out, he frighten to dead bad."
However, she said, in February, he had threatened to drink poison and give the children to drink as well, and after she made a report to the police station, he reportedly consumed a small amount of a poisonous substance, which landed him in the hospital.
Sewindra and Cyril sell fish at the Rose Hall and Port Mourant markets. Their three children are seven, six and four years old.
Sewindra estimated her losses at some $4 million.
Police have launched an investigation and were at the scene last night. However, up to press time, it was not yet discovered if the man had died in the fire or had gone into hiding.