A pedal cyclist was fatally struck down on the Soesdyke/Linden Highway public road yesterday, as he was attempting to cross.
Dead is Raymond Isaacs, 21, of Silver Hill, Soesdyke/Linden Highway.
Police Commander of 'E' Division Fazil Karimbaksh told Stabroek News last night that at around 4.40 pm, Isaacs was attempting to cross the road when he collided with motor vehicle HC 7383 driven by a resident of West Watooka Hill Top, Wismar, Linden.
The driver is currently in police custody assisting with investigations.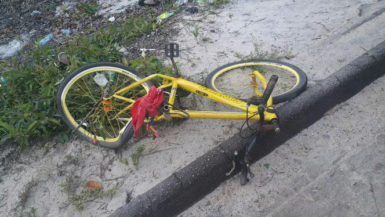 The commander explained that from preliminary investigations, the driver was driving at a fast rate when he collided with Isaacs who reportedly made a "short turn." He added that both the pedal cyclist and the motor car were travelling in the same direction before Isaacs attempted to cross the road.
As a result of the impact, the cyclist was flung onto the front windscreen of the car before landing on the roadway on the western parapet.
He was picked up in an unconscious state by public-spirited persons and rushed to the Linden Hospital Complex where he was pronounced dead on arrival. The commander noted that the injuries Isaacs sustained were severe.
Around the Web