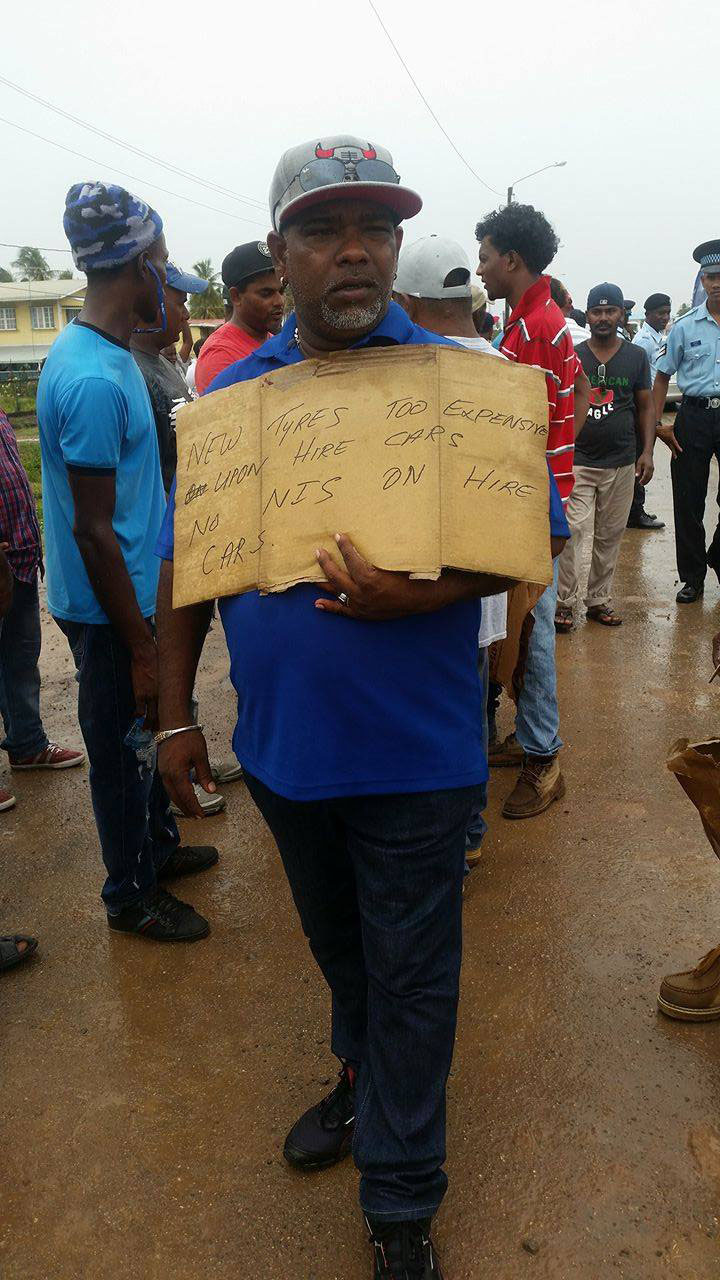 Around 100 members of the Berbice Hire Car Association demonstrated yesterday at the Tain Koker, Corentyne against the government's ban on used tyres.
The ban was announced in the 2017 budget and took effect from April 1st.
As the rain poured, the drivers did not give up. They stood in line, some with umbrellas, and some without, all in an effort for their voices to be heard.
Former Regional Executive Officer of Region Six, and well known political activist, Veerasammy Ramayya, who was present at the protest, told Stabroek News, that the protest is justified, since it will be a heavy strain on drivers if they can only purchase new tyres, which cost a hefty amount. He said, "The issue of the Berbice Hire Car Association is that the price is too expensive. The quality of the tyre that I have seen is of poor quality, and the average is, that one is for $30,000."
Ramayya questioned what would happen, when the tyres are constantly damaged, "puncture or bend", due to the deplorable roads. He stressed that most drivers would not be able to afford to replace the tyres on a regular basis at such a high cost. "If they have one puncture a week, they have to work the entire week to buy back that one tyre."
He argued that the purchase of only new tyres would result in the drivers working at a loss. "The people creating their own jobs, they have to pay bank loans. How they will make it and feed their family? It's very, very unfair, plus all the taxes on grocery and so. How these people will survive?" he asked.
Ramayya stated that, "this is not the change I fought for, where more people are suffering. (Sugar) estates are closing down, people creating their own jobs and now them imposing these things."
Ramayya also spoke of another issue the hire car association is unhappy about. He said, "Many chauffeurs were being stopped by police, and they were issued a paper [notice] from NIS that they have to pay $8,600 per month. This is very inconsiderate, you have to pay NIS based on what you have earned, and they assuming the NIS amount," he noted.
He pointed out that if drivers were to take out $8,600 for NIS from their monthly income and a large amount for tyres, they would not have enough money to take care of their families. He called on the government to revisit these initiatives, and make changes that will benefit the drivers and citizens of the country.
The drivers alleged that they were stopped by police with an NIS representative present, and their licences were taken away for a few hours. "Is this even legal?", one driver asked.
Another driver, Yadram Latchmannarine, expressing his sentiments said, "This government here is just for themselves, them nah think about the people of this country, as a hire care driver, I think the protest is right. I wouldn't be able to afford to purchase new tyres, it too expensive," he noted.
Another driver, Bobby, who has been a hire car driver for over twenty years now, pointed out that officials are giving the idea that used tyres are partially responsible for accidents.
"Used tyres doesn't cause accident. What cause accident is speeding, drink and drive, and misjudgement on the road,' he opined, whilst adding," I don't see a reason why it is urgent to change used tyres. It is impossible for a hire car man to find fifty something thousand dollars one time, to buy new tyres."
He called on the police to place more emphasis on speeding, and, drinking and driving, which according to him, will reduce the accident rate.
The drivers stressed their disapproval of the ban on used tyres, and stated that many more protests are in the works.
Around the Web