A man's decision to interfere with a miner's wife has landed him in a critical condition in the Georgetown Public Hospital, while the miner is now facing an attempted murder charge.
Magistrate Fabayo Azore read the charge to Leeland Marco, 25, who is accused of wounding Terrence Lindo on April 8, at 111 Mile, Potaro River, with intent to commit murder.
Marco was not required to plead to the charge.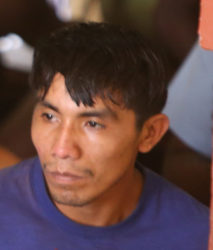 Police Prosecutor Stephen Telford objected to Marco being granted bail, while adding that Lindo remains hospitalized in a critical state. The prosecutor added that Lindo suffered a stab wound to his upper abdomen and is currently unable to speak.
The prosecutor stated that on the day of the stabbing, Lindo was drinking when the accused passed the area with his wife. Lindo began to trouble Marco's wife, causing Marco to confront him and Lindo pushing the accused. When pushed, according to the prosecutor, Marco pulled out a knife and stabbed the complainant.
Attorney Madan Kissoon, who represented Marco, presented a similar account to the one given by the prosecution but he claimed that Lindo fell into a drain that is under construction and sustained his injuries from a metal pipe and not from being stabbed by the defendant.
Magistrate Azore denied bail to Marco and subsequently adjourned the matter to today's date, when it will be heard by Chief Magistrate Ann McLennan.
Around the Web