A young miner was yesterday charged with the murder of a man last week at Mahdia, in Region Eight.
Stanislaus Clement, 24, stood before Magistrate Fabayo Azore in a Georgetown court, where he was charged with murdering Reginald Charles, also known as 'Short Man,' on April 5 at 111 Mile, Mahdia Landing, Potaro River.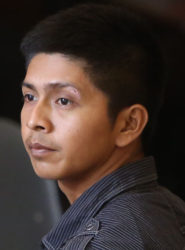 Clement was not required to enter a plea to the charge.
According to the prosecution's case, on the day of the stabbing Charles and Clement were drinking when an argument ensued between them, resulting in the defendant breaking a bottle and stabbing Charles. Charles, 30, sustained stab wounds to his neck and chest.
Charles was later rushed to the Mahdia hospital, where he was pronounced dead.
The court also heard that the case file is incomplete.
Magistrate Azore remanded Clement to prison until today, when he is expected to go before the Chief Magistrate, who will transfer the case to the respective court.
Around the Web