The son of 82-year-old Rudolph Ross, also known as 'Uncle Bruce,' who perished in a fire at his Kildonan Village, Corentyne home in the wee hours of Monday, is being treated as a suspect in his father's death.
Police and fire service investigators in Berbice are working together on the investigation into the fatal fire.
Ross, according to a post-mortem examination, died from smoke inhalation due to exposure to flames after a fire started in the upper flat kitchen of the two-storey Lot 14 Kildonan Village house, where he lived.
Although the cause of the fire was unclear, fire service investigators yesterday visited the scene of the fire for a second time and a bottle containing what appeared to be flammable liquid was discovered. While the source would not give much information, he noted that the bottle is a vital part of the investigation and the fire service sleuths are making checks on it.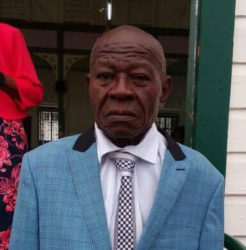 The dead man's son, Colin Ross, remains in police custody and according to Commander of 'B' Division Ian Amsterdam, the man gave several alibis to police.
Amsterdam noted that the police have carefully examined those alibis and most have not checked out. He stated that investigators were told that the suspect was spotted riding "in a certain" direction on the Corentyne in the morning in question. "The man tell police that somewhere he get puncture on he bicycle and he hide it in the bush. The police checking on this," Amsterdam said.
Amsterdam, in a previous interview, told Stabroek News that neighbours reported that Ross and his son, who resided with him, were involved in a heated argument on Sunday.  Colin returned to Guyana over a year ago to take care of his father.
Amsterdam stated that police investigators are awaiting a report from the fire service and will then construct a file to send for legal advice.
Meanwhile, a police source close to the investigation told Stabroek News that the suspect in custody is a former police detective and he is not giving much information to the police.
Ross' neighbour, Brian Jackson, had previously told Stabroek News that he heard the elderly man calling for help and upon looking out of his window, he saw flames coming from Ross' kitchen. "I hear he calling, 'Brian! Help! Help!'" he said. "I look out and see the fire coming from he kitchen side. I run out fa help he, but I failed," he man said.
Jackson had rushed out, grabbed a ladder and attempted to rescue Ross through the window he was calling out from. But the window had a safety iron grille, which he could not get past.
Jackson then alerted other neighbours, who immediately came out and formed a bucket brigade. However, their efforts proved futile as well.
He told Stabroek News that Ross shouted for almost ten minutes straight, before his voice faded. Ross's body was later discovered on the eastern side of his home near a window.
Ross was described as a well-respected individual, who once served as overseer for the Bush Lot/Adventure Neighbourhood Democratic Council.
Around the Web