The trial of Deosarran Bisnauth, who is accused of beating and killing another man, commenced on Monday morning before Justice Navindra Singh and a 12-member jury at the High Court in Georgetown.
The charge against the young man is that on July 6, 2013, at Enmore, East Coast Demerara, he murdered Mangal, also known as "Trevor."
Bisnauth, called "Strokes Mouth," denied the charge when it was read to him.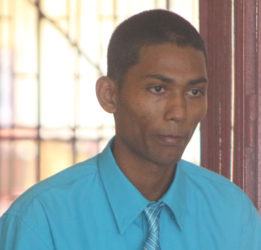 In her opening address to the jury, Prosecutor Tuanna Hardy said that on the day in question, the accused inflicted injuries on Mangal, who subsequently died.
Testifying at Monday's hearing was Detective Corporal Paul Tirat, who said that after putting the allegation to Bisnauth, he responded, "he [Mangal] run me with a bottle, and I lash he and defend meself."
According to Tirat, the accused also freely and voluntarily provided him with a caution statement, which he elected to have the police to write for him.
Senior Counsel Bernard De Santos, who is representing Bisnauth, objected to both the oral and written statements being admitted into evidence, saying that they were not taken according to law.
As a result, a voir dire is to be held
The state's case is being led by Hardy, in association with Prosecutor Siand Dhurjon.
Around the Web