A city magistrate yesterday sentenced a man to 18 months in jail, after finding him guilty of attempting to break into a home.
It is alleged that Avinash Insanally, on February 2, at Section 'A', Block 'X', Diamond Housing Scheme, attempted to commit a felony, that is to say, break and enter the dwelling of Rayon Thomas.
Insanally, of Diamond Housing Scheme, who was on trial before Magistrate Leron Daly, was found guilty of the crime after her examination of the evidence presented through the prosecution's witnesses.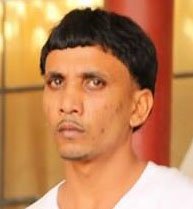 Police Prosecutor Sanj Singh prosecuted the defendant's case.
Insanally, who currently has other matters before the courts, in a fit of rage leaped from the upper portion of the court stairs whilst being escorted out of the courtroom of Magistrate Dylon Bess, to the lower portion of the stairs, in an attempt to target a cameraman who was taking his photograph. The defendant, angrily asked why his photograph was being taken and then proceeded to spit in the cameraman's face, as the escorting officer took hold of him and escorted him down the remainder of the court stairs.
Insanally, however, did not stop there and began to hurl threats at the cameraman as he was placed in the court lockups.
Charges are likely to be filed against Insanally for the threats made to the cameraman.
Around the Web