Prosecution main witness Karan Chattergoon, said he saw when Deosarran Bisnauth hit Robert Mangal three times with a piece of wood almost four feet long, causing him to fall face down on the ground.
Chattergoon was at the time testifying at the trial of Bisnauth called "Strokes Mouth" who is accused of murdering Mangal.
The charge against the young man is that, on July 6, 2013, at Enmore, East Coast Demerara, he murdered Mangal, also known as "Trevor."
He has pleaded not guilty.
Chattergoon, who described Mangal as his "drinking buddy," said that on the day in question, they went to their usual drinking spot to imbibe when an argument ensued between Mangal and accused.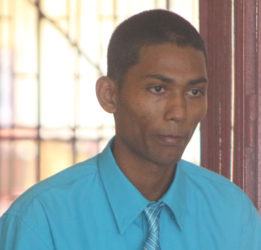 The witness said he doesn't know what the men were arguing about, as he, by that time, was already in the rum shop purchasing liquor and cigarettes.
According to Chattergoon, some moments later, after making his purchase, he went out of the shop where he saw the accused with a piece of wood in his hand with which he dealt Mangal three lashes in his back.
Chatergoon described the wood as being a "2 x 4." He said that it was about four feet long.
According to a caution statement which was admitted into evidence, Bisnauth told the police that Mangal ran after him with a bottle, and he, in turn, hit him in self defence.
The accused has, however, denied making the statement to police.
The case continues this morning before Justice Navindra Singh and a 12-member mixed jury at the High Court in Georgetown.
Representing the accused, is Senior Counsel Bernard De Santos. The state's case meanwhile, is being presented by Prosecutor Tuanna Hardy, in association with Siand Dhurjon.
Around the Web