Three Guyana Power and Light Inc. (GPL) employees, who are accused of attempting to steal money from a customer of the company, are now on bail after denying the charge.
Quincy McKenzie, 30, Garfield O'Neil, 29, and Alicia Steele, 28, were read the joint charge by Magistrate Leron Daly, when they were arraigned in a city court yesterday.
It was alleged that on April 7, at William and Queen streets, Kitty, with intent to steal, they demanded $40,000 from Mitra Persaud.
The three accused denied the allegation.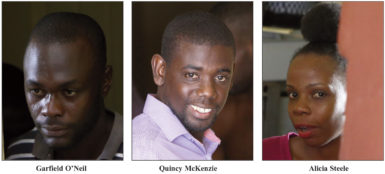 McKenzie was also read a second charge, which stated that on April 10, at William Street, Kitty, he obtained $65,000 from Persaud by pretending that he was in the position to install a GPL meter.
He also denied this crime.
Police Prosecutor Sanj Singh stated that on April 7, the three defendants went to the home of Persaud to investigate a meter problem and told him that if he didn't give them the $40,000 they would remove the meter. The prosecutor added that McKenzie, on April 10, went back to Persaud's home and pretended to be installing a new meter.
Attorney James Bond appeared on behalf of McKenzie.
The three defendants were granted their release on $40,000 bail each on the joint charge, while McKenzie was asked to post an additional $60,000 for his release on his second charge.
Their next hearing is fixed for May 15.
Around the Web