The Guyana Manufactur-ing and Services Association (GMSA) last week elected a new executive when it held its Annual General Meeting (AGM) for fiscal year 2017-2018.
According to a GMSA press release, Chief Executive Officer (CEO) of Environmental Management Consultants Shyam Nokta was unanimously elected President, CEO of Sterling Products Ltd Ramsay Ali was re-elected First Vice-President, Yonette Jeffers of Laparkan Freight Forwarders was named Second Vice-President and Autamaram Lakeram of the National Milling Company (Namilco) retained the finance portfolio as Third Vice-President.
The Board of Directors for this fiscal year was also elected at the AGM. It is made up of representatives of Brass Aluminium and Cast Iron Foundry, Swansea Industrial Associates, Tropical Shipping Agents, Sterling Products Ltd, JTW Associates Management Institute Inc, Namilco, Edward B Beharry Group, Environmental Management Consultants, Banks DIH Ltd, Bosai Minerals Group, Laparkan Freight Forwarders, Guyana National Industrial Company, Guyana Pawn-broking and Trading Company, New Guyana Pharmaceutical Corpora-tion, Safeway Security and Cummings Wood Products.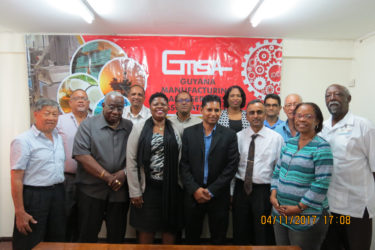 The release said Nokta indicated that his main objective over the year will be to consolidate and expand the organization through strengthening the relationship between the board and member companies.  He indicated that an important area of focus will be facilitating the resolution of issues affecting members through closer collaboration with key stakeholders.
According to the release, Nokta further indicated that emphasis will be placed on strengthening important sub-sector bodies covering agro-processing, services, chemical and pharmaceuticals, construction and engineering, forestry and wood products, fast foods and minerals and related products.
The first-time president expressed his strong interest in seeing the GMSA establish strategic partnerships with other business support organizations to position the business community to maximize opportunities from new and emerging sectors such as the imminent hydrocarbon industry.
Ali, who held the reins of the GMSA following the passing of president Eon Caesar in October 2016, outlined some of its recent achievements and interventions which included the preparation of the organisation's Strategic Plan 2017-2020, strengthened relations with the Guyana Revenue Authority, successful negotiations with the support of the Ministry of Foreign Affairs and Caricom Secretariat to expand the range of items exempt from the Common External Tariff and securing government's support and intervention with the United Kingdom for the lifting of the 2015 ban on Guyana's Greenheart.
The GMSA has over 100 member companies covering the manufacturing and services sectors.
Around the Web