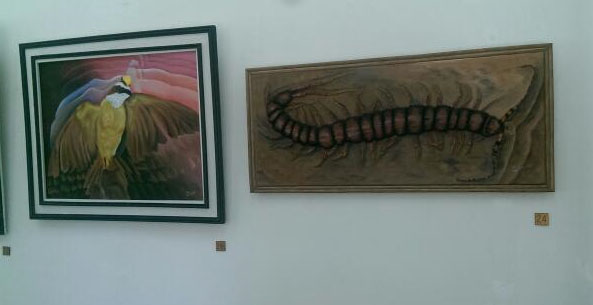 The Arts Forum in collaboration with Castellani House on Tuesday launched a new exhibition, titled 'Ganga Ship 1917: the long journey,' to mark the centenary of the end of Indian Indentureship in Guiana.
Writing in a catalogue accompanying the exhibition, Ohene Koama, acting Curator of the National Gallery, noted that parts of the exhibition were first featured at an exhibition at the National Library from March 28 to April 1, 2017.
However, the current exhibition has been expanded to included two selections of works from the National Collection, which add another dimension to the display.
Koama stated that the selected works are from artists of Indian origin/heritage and span a period of 50 years.
Some of the artists featured are Betsy Karim, Michael Khan, Darshani Kistama, Ramroop Mahase, Brian Tankoon, Bernadette Persaud, Philbert Gajadhar, David Singh, Maurice Khan, Carl Martin, Cyril Kanhai, Keith Khan, Karamchand Dyal, Chekama Skeete, Desmond Ali and Seunarine Munisar.
The works on display include paintings, weaving, and papier-mâché sculptures.
The exhibition will run until May 9.
Around the Web