A chance sample-taking of "dutty water" led by an eccentric science teacher, propelled Lorna McPherson to rewarding experiences in the world of science; she is still to exit more than 50 years later and if given a chance she would do it all over again.
"My first love affair was with science, madly in love with it and I decided I want to know more about other stuff," McPherson told the Sunday Stabroek in a recent interview, aptly describing her link to the world she entered at age 11.
Through the many years, McPherson has seen many struggles but she triumphed over her biggest—being in a state of depression and contemplating suicide—as at that time she had four children and it was they, coupled with her inner strength, who pulled her through.
"My four children are responsible for everything that happened to me in the last 30 years," McPherson said, driving home how much impactful they have been in her life as they drove her to work hard and explore things that she never did before. Today she is proud that even though she has had some difficult years, she has four accomplished adult children who give her the greatest joys.
'Green baggy pants'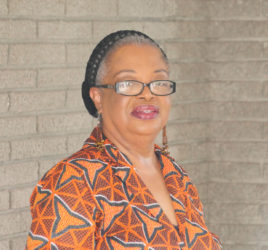 McPherson recalled that she was at the Bishops' High School and had no interest in science until she met the author of her Biology text, Miss Violet Graham, who was described as what "scientists looked like then. She didn't care if she had on green baggy pants with red socks and blue shoes…," McPherson recalled fondly.
It was Miss Graham who led her down the path to science when she requested her company take samples next to the then Kitty Train Station on Station Street.
"Bright four o'clock a Saturday afternoon to collect dutty water out of a drain," is how McPherson described it. But the flame for science was lit the following week when the teacher called her and showed her a "drop of that dirty water" on a slide and she saw micro-organisms and "fell in love, madly in love."
This love affair saw her writing all the science subjects at O-Levels and she continued on to her first degree, Masters and her post-graduate research.
She was among the first big batch of girls writing A-Level science at Bishops' in 1966; previously only small numbers of girls wrote science. "It meant that in a sense in 1966, we were the face of women in science and we had to knock down doors like crazy," she recalled.
When she got her first job at Tutorial High School as a teacher, the other science teachers were men and a third form student promptly informed her that she could not teach him science because she was a woman.
"So I said to him no problem I got it in here [pointing to her head] you don't have it. If you want it from in here, I will give it you, if you don't want it, no problem with me…," she said revealing that he later settled down.
It was McPherson who introduced science in primary schools in Georgetown in 1970, which saw her teaching 20 schools at the same time, teaching the same lesson 20 times per month.
"So for me when I look and see every student writing science this year and I remember what it was in 1968…I feel good…"
Later, McPherson opted not to focus only on biology, but rather to widen her attention on the subject area. Having married an Agriculturalist, she entered into the area of agriculture research at Ebini, Berbice River for a lab. But when she returned to the city, she decided that she did not want to remain in agriculture "because I would be in the same office with him" and she was not particularly happy at the thought of "seeing him whole day and whole night."
This propelled her into food industry research and it was between that and her work in agriculture she became interested in all the nuances of nutrition, resulting in her applying to the government for a scholarship in nutrition. She read for a Master of Science in Nutrition at the University of London (graduating with distinction) and returned as a Public Health Nutritionist.
She commenced a "most interesting period" working as a nutritionist with the government for five and a half years.
'Terrorising'
"I left because I found myself in a situation where my boss was terrorising me from 8 o'clock to 4 and my husband from 4 o'clock to 8 and I figured I would kill somebody. I honestly did… so I said you know what let me get out of here with my children," McPherson said candidly.
It was at that lowest point in her life that McPherson was able to accomplish the perfect getaway scoring the enviable feat of two Fulbright scholarships in one year. "I am the first person in the world to get both of those in one year…," she shared.
Diverting from the line of conversation, McPherson paused to offer encouragement to persons who feel hopeless and maybe at the point of suicide to always look for a solution even if it appears that there is none.
"I always tell people that not because you don't see a solution around you, doesn't mean it isn't in the next street," she said, revealing that she had applied for many jobs before being awarded the scholarships which allowed her to leave the country. And she insisted that her four children travel with her.
While the experience with her husband took her to the lowest ebb in her life, McPherson said the life she has had on her own has erased all that led to her being a single mother of four.
She pointed out that many women remain with their partners because they "hold on to a lot of stuff." When she left her husband, where material things were concerned, they had it all but she "walked away from all of it. All that I took with me was US$380 and four kids.
"Sometimes people think they are kicking you down [but] if you can use that to your benefit you would be kicked up." She started over and has loved the last 30 years of her life.
McPherson remained in the US for nine years and upon her return she was appointed head of Mathematics, Science and Technology for the Ministry of Education. Later she became the first coordinator of Health and Family Life Education in the ministry, prior to a health desk being established in the ministry.
McPherson later worked for Management Sciences for Health a sub-contractor for USAID under the GHARP programme which ended in 2013.
Needing to relax, she was at home for a while, but was asked to teach nutrition at the American International School of Medicine for one semester; she has been working for four years with the pre-meds.
"It is part time but I like it and the ministry still calls me to do bits and pieces for them in Health and Family Life Education and I continue to do that," McPherson said. Along the way, she co-authored the Caribbean Advanced Proficiency Examination Biology syllabus and worked for the Caribbean Examinations Council for 14 years all contributing to her having "a very active life in science.
"What makes you feel good in the end is what you have done, the hurdles you have crossed… If you want to end up feeling satisfied with what you have done with your life, you have got to be prepared to fight battles. If you believe enough in what you are doing you will find a way," McPherson said. And she cautioned that while sometimes you have to fight, at other times the best way to fight is not to fight and be prepared to deal with rejection.
Around the Web