The police on Friday re-arrested the prime suspect in the murder of political activist Courtney Crum-Ewing, less than one month after the Director of Public Prosecutions (DPP) ordered that further evidence be taken in the preliminary trial.
Stabroek News was reliably informed that acting on information received, the police arrested Regan Rodrigues, called 'Grey Boy,' at a house at Middle Road, La Penitence, Georgetown.
Rodrigues, who was previously charged with the murder of Crum-Ewing, had been freed  in September last year after a city magistrate found that there was no evidence which suggested that he was the one who pulled the trigger on the night of the murder.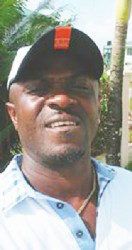 Last month, DPP Shalimar Ali-Hack remitted the case to Magistrate Judy Latchman for re-opening. The DPP, in a statement, had said that the sole purpose of the remitting the case is to take further evidence from police witnesses and to rule on the voluntariness of all oral statements of the accused.
Rodrigues was also charged in July, 2015, with unlawful possession of a pistol and 14 live rounds of ammunition. The gun was later reported to have been linked to the murder of Crum-Ewing and formed the basis for the murder charge. However, the weapons charges did not stick as Rodrigues was found not guilty of them in January last year.
He was, however, sentenced to three years in prison for the crime of escaping lawful custody. This matter was appealed and at the time of his arrest, Rodrigues was out on bail pending the appeal.
Crum-Ewing was killed on the evening of March 10, 2015 at Diamond, East Bank Demerara as he was urging residents to vote at the May, 2015 elections.
He was shot five times, including three times to the head.
For weeks prior to his death, he had held a one-man protest outside the office of then Attorney General Anil Nandlall, calling for his resignation over controversial statements he had made during a telephone conversation with a Kaieteur News reporter which was made public.
Around the Web