Minister of State, Joseph Harmon and Minister of Indigenous Peoples' Affairs, Sydney Allicock, on Saturday, handed over $1M to the Rupununi Rodeo Committee, a statement from the Ministry of the Presidency said yesterday.
Harmon who delivered an address at the opening of the Annual Rupununi Ranchers Easter Rodeo at Lethem, said that the event is one of great significance, not only to the residents of that region, but to the country as a whole.
To this end, he announc-ed that the Government will be working with the Guyana Lands and Surveys Commission and the Rodeo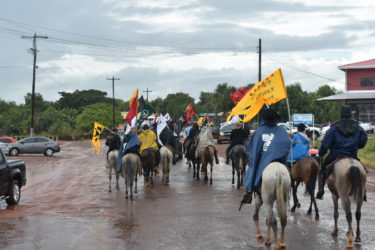 Committee to earmark more space for the event venue.
"This event has grown to international stature with persons coming from Suriname and French Guiana to be a part of what is happening here. What we would like to assure you is that the administration of [President] Granger gives full support to the development of these activities. I want to assure you that we are having discussions with the view of ensuring that more land is provided, so that we can have a bigger venue and we can have international standards here at this rodeo. When we celebrate rodeo, we celebrate the life that is Guyana, the life of the Rupununi. The hinterland of which the Rupununi is a part of, is a part of our fabric and we want to ensure that every portion of that fabric is well stitched and mended together," he said.
Mayor of Lethem,  Carlton Beckles said that the event has grown significantly over the years and with the added support from the Government, it is expected that it will get even bigger.
Rebecca Faria, an Executive member of the Rupununi Rodeo Commit-tee, according to the statement, said that this year, the Committee has decided to focus on and promote its female vaqueros, since the Rodeo is usually seen as a male dominated event.  As such, the organisers have raised the women's prizes to equal those of their male counterparts.
Iyla Chenya, who hails from the Saddle Mountain Ranch, in an invited comment, said that she is pleased to see the Com-mittee affording women equal opportunities this year at the Rodeo. "This is a really good move by the Committee because it shows that they are thinking about giving us equality with the men even though some of us won't be able to do the seconds that they clock but it shows that we are brave and nothing can stop us," Iyla said.
Around the Web