As the Tagore Memorial Secon-dary School, located at the Number 63 Village, Corentyne, approaches its 75th anniversary this year, the institution continues to receive support from old students.
Recently, over 500 books, a television, a DVD player and a projector were donated to the school by the alumni organisation, called the Tagore Philanthropic Society (TPS), according to Chairman of the School Board Charlie Amar.
Amar told Stabroek News that the books came as both a Christmas gift for the students and as a form of encouragement to spur them on into becoming "prolific readers."
Amar also noted that TPS thought it necessary for the school to have an "audio visual centre" and as a result the liaisons for TPS in Guyana, Amar Chand and his wife Jenny Chand, donated a 42-inch television system and a DVD player, while TPS donated a projector with a surround sound system to make it a reality.
In addition to those donations, Amar said that TPS has continuously invested in textbooks for the school, along with supplying equipment for the home economics department, complete basketball, volleyball and tablet tennis sets, chalk boards and educational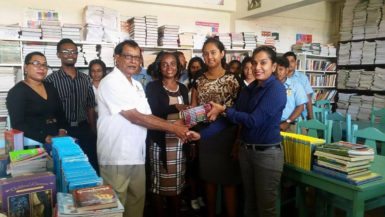 DVDs.
According to Amar, TPS was formed in 2008, after past students thought it was a good idea to form an organisation to raise funds in an effort to give back and further improve the school they once attended. "To date, they have done tremendous help to this institution," he said. "…Four of our students have benefited from complete scholarships at UG [University of Guyana] and they all have secured their Bachelor's Degree, several others have completed two years of diploma courses at UG's Tain Campus," he noted too, while pointing out that TSP has also given financial rewards to students who topped their classes and also to the best "all round student." They have also provided funding for after-school programmes and Saturday programmes for "slow learners," he added.
TPS has also assisted in rebuilding the fence of the school's playground, which was knocked out by a freak storm. Amar explained that the project cost some $1M, of which the school board paid $117,000 towards labour.
Meanwhile, Jenny Chand, representing TPS told Stabroek News, that the 40-member organisation does not only support Tagore Memorial Secondary School but has spread its wings over the years and contributed to the development of  Line Path Secondary School, New Market Primary School, Number 69 Nursery and other schools in the Upper Corentyne Area. "These 40 persons are out to help the public education-wise and they're always generous and willing to help," Chand said.
At the 2016 Caribbean Secondary Education Certificate (CSEC) exams, Tagore Memo-rial Secondary School scored 94% passes in Agricultural Science, 93% in Biology, 86% in Chemistry, 95% in Electronic Document Preparation Manage-ment (EDPM), 62% in English A, 68% in English B, 62% in Human and Social Biology, 89% in Information Technology, 97% in Integrated Science, 44% in Mathematics, 58% in Office Administration, 86% in Physics, 75% in Principles of Accounts, 80% in Principles of Business, 58 % in Social Studies and 100% in Physical Education and Sports.
Amar did acknowledge that the school was painted in a negative light by a  letter, published on March 27 in the Kaieteur News, under the headline, 'Tagore Memorial Secondary School has serious problems.' The letter, authored by a "concerned student," alleged that students were being victimised by some teachers. Amar said the allegations garnered the attention of the Regional Education Officer, who immediately launched an investigation into the school.
However, he noted that the investigation was recently concluded and there were "no discrepancies found." He added that the letter may be the work of a learned individual who wishes to tarnish the school's name. However, he said he was not worried, since there were was nothing factual about the allegations.
Around the Web