Pharmacist Arnold Gajraj of Greenwich Park, East Bank Essequibo, charged last year with obtaining $750,000 by false pretence, was cleared of the charge at  the Leonora Magistrate's Court.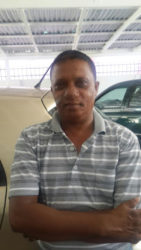 It was alleged that the 56-year-old obtained the sum of money from Hemchand John between August 4 and August 8, 2016, at Meten-Meer-Zorg, West Coast Deme-rara, by falsely pretending that he was in the position to have the man's uncle, Hempersaud John, and his daughter, Chitra John, be released from police custody, knowing same to be false.
The case, heard before Magistrate Rochelle Liverpool, was subsequently dismissed on March 9, 2017, as the complainant chose not to offer evidence.
Around the Web