The Xercise, the first local sports non-profit initiative of its kind is Guyana, as stated by co-founder Nitesha Mokutnauth, is geared towards working with local athletes off the field in terms of capacity building, communication skills and leadership qualities.
Officially launched on April 6, 2016, The Xercise was co- founded by young sports enthusiast Mokutnauth and Stabroek News sports journalist and former national U19 cricketer, Royston Alkins.
Essentially, this non-profit initiative is committed to enhancing the involvement of Guyanese athletes in multi-tiered activism within society, while at the same time pushing for the elevation of sports in Guyana.
Mokutnauth in a recent interview with Stabroek News detailed the reason behind the establishment of the NGO which specifically focuses on "bettering athletes."
"The main reason for the organization is to basically give athletes that drive; we basically want to work with athletes off the field because there is a certain stereotype in terms of them not knowing how to speak, them being indisciplined, them not knowing proper leadership styles and we want to change that," the young woman said.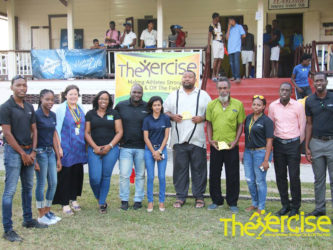 Mokutnauth, a former student of the St. Rose's High School, said she too was stereotyped for always being the "sports girl," and was constantly told to put down the bat and pick up her books.
"I was good at doing both academics and sports; I mean I was not a 13 distinctions student but I got good grades. Nonetheless, I was always stereotyped for being the sports girl in school," she said.
"I had teachers saying to me, sports is not going to take you anywhere; why are you doing this, you need to study but I believe that you can balance it; you can try to do both…and that is one thing I am passionate about, I want these guys to know that you can do both," she added.
This being her motivation, the young woman said she jumped at the opportunity when it was presented to her by Alkins, during the US Embassy's Youth Ambassadors Programme in 2015, which saw them travelling to the USA as part of a cultural exchange initiative.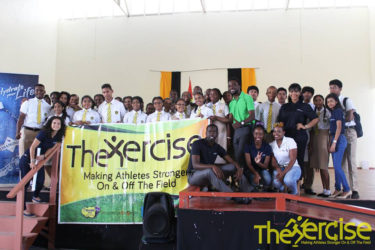 At present, The Xercise has eight active members, all of whom are either former national athletes or persons who are just genuinely committed to not only seeing local athletes in a better place, but also interested in contributing to the elevation of sports in Guyana.
"We at The Xercise want to build our sporting sector. We know it's not even a five out of ten, and so we are trying to start work at the grassroots level, where we think our efforts would be more effective, considering we will be able to reach those up and coming athletes…We are trying to work with athletes as young as 15, because we feel as though molding them from young is important," she said.
"I think starting with the younger ones is better than starting with those who are say 17-18, and that is another reason why we are working with primary schools to push the importance of sports," Mokutnauth added.
Thus far, The Xercise has held several interactive workshops with persons mainly from the sporting discipline of cricket, as well as a number of school visits.
"Last November, we facilitated a session with cricketers, where the focus was mainly on communication and leadership skills. We have been working with the Youth Ambassadors Guyana 2015, so they cover the entire presentation on leadership and team work… It's a very interactive session, athletes do most of the talking…give them real life scenarios; conflict resolution, etc.," she said.
"So far we have been working mainly with cricketers but we are hoping to extend our reach to other disciplines – football, basketball and possibly hockey as well," Mokutnauth shared, adding that the response thus far, has been satisfying.
"It has been really positive, being the first organization mainly focusing on sports. We have had people from the martial arts association asking when we are going to be extending our reach to other organizations," she remarked.
More recently on April 6, The Xercise, in observance of the United Nation's International Day of Sport for Development and Peace, pulled off several activities aimed at promoting peace and development in sports.
These activities included a celebrity T20 cricket match featuring West Indies batsman Leon Johnson and West Indies T20 player, Christopher Barnwell, which was held at the Demerara Cricket Club ground.
Additionally, the day was also used to day to promote sport among young children in three different schools, namely Queen's College, St. Stanislaus College and Stella Maris Primary.
"It's a UN day and we decided to play under the theme, "giving athletes a say, peace in play" we are trying to give our athletes a voice and to make them ambassadors for social issues in Guyana, as we try to promote peace through sports," Mokutnauth said.
In response to questions about challenges they face as an organization, Mokutnauth highlighted the difficulty of gaining sponsorship for activities.
"Because of the lack of sponsorship, we have not been able to do any interactive sessions for 2017 as yet. We would like it to be more often, and we are working to have it done at least once a month with several organizations. However, we can only do as much as we can, with what little is afforded to us," she said.
That apart, plans are in place which would allow them to move away from having to depend solely on sponsorship.
"We can either engage them together which would allow the athletes to network in sports, or we do it separately," she said.
Looking to the future, Mokutnauth said she hopes to see The Xercise becoming a more structured organization, in the sense of being able to extend its reach to include as many sporting organizations as possible, including those in Berbice, Essequibo and Linden.
"What I hope to see as well, is us being able to organize sports tournaments, because really and truly in Guyana, the focus is mainly on cricket tournaments and football tournaments.  You never really hear about there being a badminton tournament, or a big volleyball tournament, so I hope in the future, we as an organization will be able to organize these," she shared.
Additionally, more efforts will be made to promote local athletic talent, so that they can be as widely recognized as Jamaican cricket superstar Chris Gayle.
"We want to be able to give athletes a chance to come out and show themselves locally. If you ask Guyanese about Chris Gayle, they know who he is, but if you ask them about a Sachin Singh, they have no idea who he is," Mokutnauth said.
Also of great significance to her, is The Xercise's plans to advocate for sports scholarships for local athletes.
She noted that though there are cases where persons have been able to benefit from such scholarships, such occurrences are rare.
"Sooner or later we will be advocating for athletic scholarships. They are going to know that once you find that balance between sports and academics, opportunities for scholarships will be made available to them," Mokutnauth said.
For those desirous of learning more about The Xercise, information can be obtained from their Facebook page https://www.facebook.com/TheXercise.gy/ and on Instagram at Xercise592.
Around the Web