Residents of Constituency 10, Albouystown/ Charlestown say they have seen changes in their communities, since the election of Team Legacy's Malcolm Ferreira as a councillor at the March 18, 2016 Local Government Elections.
Ferreira was elected as the First-Past-the-Post Representative on the City Council through the hybrid electoral system. Ferreira competed against David Allicock of Team Benschop for Mayor, David Williams of the PPP/C, and independent candidate, Randolph Thorne.
Ferreira, along with Team Legacy colleague, Carolyn Caesar-Murray and APNU Proportional Representative Heston Bostwick represent the constituency around the horseshoe table on the council.
Residents told Stabroek News that Ferreira has been constantly involved in promoting social development in a bid for a positive influence on the youths of the constituency.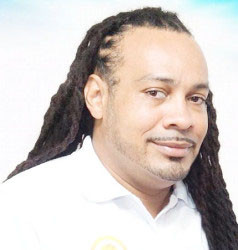 In an interview with this newspaper leading up to the historic local government elections, Ferreira had said he was participating in the election to win it because he would have an opportunity to mobilise assistance to tackle problems the community is faced with.
He shared his passion to help youths of the community through after-school classes, to aid children who are behind in school, preparing for exams or trying to find a career path.
Following up with the constituency representative a year later, he told Stabroek News recently that while he was faced with many challenges, he was able to gather support and host a number of social programmes.
Ferreira said not only did he serve as a representative of the constituency on the council, but within the past year he wore many coats and performed the roles, "of a counsellor, teacher, friend, father, uncle, son, arbitrator, advisor, role model, [and] servant.
"…I was able to work with others from different political persuasions… I am a newcomer to politics, and I have had to rely on others during this time for counsel and guidance in many aspects.
"I would say overall my performance is a B+. I didn't get to accomplish everything I was hoping to complete, such as the Albouystown Clinic which should have been completed by now. In terms of dealing with social issues, I have been able to help coordinate programmes, but there is still more work to be done."
Amidst reports of the city council being cash strapped, Ferreira said there are a lot of resources that can be tapped.
The councillor said that within the past year, he was able to host two "Future Leaders Summer Camps" for children of the constituency. The camps attracted almost 180 children who benefited from three weeks of a "life changing experience," he added. The children were engaged in issues such as self-awareness, respect, motivation, unity, garbage disposal and self-esteem.
He said that in collaboration with Councillor Trichria Richards, he was able to organize a day camp for the children of Laing Avenue and Front Road, at the David Rose School.
At the end of the summer camp, over 350 children were treated to a day of fun at the HJ Water World, at Providence, East Bank Demerara, the councillor said, while adding, that during the Christmas season, in collaboration with the Good Success Craig Community Youth Group, "[we] hosted the first ever Christmas party, and costume and glow parade through the streets of Albouystown and Charlestown for 700-plus children."
Reading workshop
Residents and children benefited from a health fair and reading workshop through a partnership with the Rotaract Club. An estimated 175 children attended the reading workshop, Ferreira said.
The councillor pointed out that he worked with the Carmel Primary School and they were able to commission a library and reading room.
According to Ferreira, he was able to rally support from many organizations and individuals, both in Guyana and overseas, to supply over 600 children with back to school gear such as, footwear, uniforms, bags, and stationery, in September 2016. He indicated that through his work in the community they formed the Ambitious Future Leaders Youth Club which has children and young adults registered from the constituency. He further added that children from the constituency received some coaching and participated in the Commanders Spelling 'B' competition, where the constituency emerged with the first and third place prizes.
Adding to the list of social contributions made to the constituency, he said that in partnership with Nestlé under the Maggi brand, 50 women from the constituency participated in a three-week course on preparing nutritious meals, using a small budget. Through Councillor Carolyn Caesar-Murray, he added, they facilitated a luncheon with the residents of the Dharm Shala in Albouystown.
Turning his attention to infrastructural work in the constituency, Ferreira reported that he was engaged in discussions with authorities from the Public Infrastructure Ministry and council, to have roads resurfaced and drains de-silted. On one occasion when Stabroek News visited the community, Ferreira was seen measuring the depth of drains, so as to have a clear understanding of the amount of waste accumulated. He also lobbied for the Hill and Barr streets bridges to be reconstructed.
The councillor went on to say, that he had met with officials from the Guyana Water Incorporated to have a new water pipeline project for Albouystown.
Construction of the children's play area at Independence Boulevard has commenced, he stated. He added that meetings were held with residents from the communities on a regular basis and feedback had been received.
Highlighting plans for 2017, the councillor said that he would be focusing on de-silting the drains and alleyways, completion of Phase One of the recreational facilities, installation of street lights, and work on the construction of a community meeting place.
Additional plans include an anti-truancy campaign, starting a 'Books and Breakfast Club', where schoolchildren could enjoy a hot meal and read a passage before school every day, regular visits from the city's Public Health Department, and having young adults and students engage in after-school programmes to offer help to slow learners and those who face difficulty with homework and school projects.
He pointed out that what the constituency has accomplished for the year was not just from his work alone, but from his two supporting councillors Caesar-Murray and Bostwick.
At a recent statutory meeting Mayor Patricia Chase-Green labelled the constituency a trailblazer and urged other councillors to get working in their constituencies.
Residents sung praises for the work that the councillors have undertaken in the community.
One shopkeeper, who asked not to be named and who financially supports some of the social programmes, said she has seen Ferreira walking around the community, listening to residents and finding out what needs to be done. She said she was happy that he is focused on helping the youths but would like to see an active community policing group.
Another resident, Samuel Kelman, also responded positively when asked if Ferreira visits. He stated, "He and Bostwick are always in the community among the youths. I support what they are doing because our youths need activities in this community."
He noted that if more financial support is given to the community, significant changes can be seen, "because right now the programmes they have are looking good but they are trying to make ends meet. So I think if the government give [financial] support we can see changes."
Kelman added that he would like to see a programme developed for job recruitment since many in the community are unemployed.
Janet Stewart, like the others, also applauded the councillor for his work and stated that their votes were not in vain.  She said, "We are happy that he is helping the youths and children… he takes them out on tours and gives them the exposure that they need," whilst adding that she would at all times support the programmes, in whatever way she can. "Nobody ever do this, he is the first and things like this are needed in the community," she emphasised.
On the other hand, one resident, Ronald Stomby of Charlestown sang a different tune; he criticized Ferreira for not ensuring infrastructural work in the constituency. "The drains need to be clean, parapets need to be weed, but nothing ain't doing… we don't see him around," said the resident.
He opined that a cleanup day should be organized in the communities and have residents come out and clean their surroundings. "If they organize one I have the tools to help them and I am sure residents would get involved," he added.
He also echoed the call of Kelman for a job recruitment programme. He went on to say that community recreational activities should also be organized for residents to interact with one and other.
In response, Ferreira said he has been serving the area and perhaps the resident was not there when he was in his neighbourhood.
Around the Web