Global REACH Guyana (GRG), an organization that assists other non-governmental organizations with providing financial aid and support to vulnerable groups, the sick, and the abused, recently made a donation of a projector and projector screen to the Rotaract Club of Georgetown Central.
The equipment was handed over by Bruce Camacho, former Rotaractor and Founder and Chairman of GRG, while on his visit here for an institutional strengthening retreat.
According to a press release issued by GRG, the donation was the fulfilment of a promise made by the organization to the club during a previous visit to the country.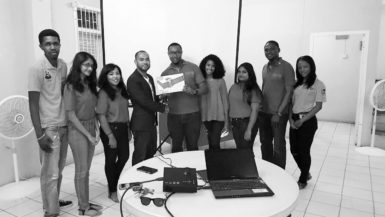 While the projector screen was handed over during one of the Rotaract club's assemblies, the donation of the projector was made later on, during the club's fourth statutory meeting on April 8.
The release stated that Camacho was "very pleased with the direction and progress made by the club," based on what he observed while on his visit there.
It was noted that Cecil Maxwell, President of the Rotaract Club of Georgetown Central, expressed thanks to Camacho and GRG for its generous contribution and for following through on its commitment.
It was further stated that Maxwell said that the timing of the contribution was ideal as it is often difficult to source equipment of that nature when it is needed for the execution of projects.
Ashley Bayley, Lead Assistant District Rotaract Representative, also noted that capacity building remains an integral component in the development of the Rotaract community, as it enriches young membership with the skillsets to develop as young professionals and leaders. The development of these skills, it was stated, will allow those individuals to more effectively execute projects, leading them to produce a greater impact on the local and regional community.
Around the Web