The unidentified body of a woman was found yesterday morning in a room at the John's Hotel on George Street, Werk-en-Rust.
According to the proprietor of the hotel, Orin John, he last saw the woman, who was a regular at his hotel, on Sunday evening when she checked it. The man described the woman as being in her mid-40s and said the only name he knew her by was 'Medusa'.
"She been coming here long. She would come every night and stay and then leave in the morning, for years," the man related to Stabroek News yesterday. He added that it wasn't until it was time for checkout and they did not see the woman that they enquired as to her whereabouts.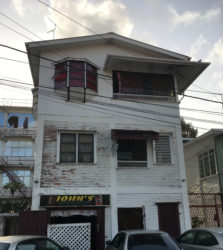 "We heard the water running this morning early around 8 so we didn't take it for anything and then it turn off so it must mean she mussy shower and then something happened," he added.
They subsequently went to her room, which was locked. As such, the man related, they broke the door down and were met with the woman's lifeless body lying on the bed.
"They were no marks of violence on her body," he stated, "and you could see her lighter was right there too like she was smoking something before." The man claimed that the woman was a known substance abuser and often the odour of suspect substances would emanate from her room.
After the discovery was made, the police were alerted and the body was subsequently taken to the Lyken's Funeral Home.
Up to press time the woman had not been identified.
Around the Web