Four days after he was rearrested, Regan Rodrigues, the man accused of murdering political activist Courtney Crum-Ewing, was yesterday brought to the Georgetown Magistrates' Courts, where police were unable to get him to go into a courtroom.
Rodrigues remained adamant that he was not going into court despite pleas by family members and promptings by the police.
The accused angrily voiced his disapproval at the recent decision by the Director of Public Prosecutions (DPP) to order the reopening of the preliminary inquiry into the charge that he killed Crum-Ewing, some six months after he was freed.
Almost an hour after he was to be taken into the courtroom of Magistrate Judy Latchman, who is presiding over the case, the magistrate was escorted by police near to the entrance of the court lockups and she spoke briefly with him.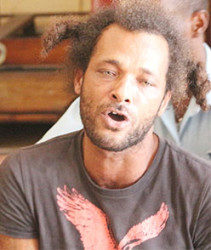 On April 3, Magistrate Latchman issued a summons for the accused after state Prosecutor Nigel Hughes made the request. The next hearing is fixed for April 25.
The DPP, in a statement, had said that the sole purpose of the reopening the case is to take further evidence from police witnesses and to rule on the voluntariness of all oral statements of the accused.
Rodrigues was charged in July, 2015, with unlawful possession of a pistol and 14 live rounds of ammunition.
The gun was later reported to have been linked to the murder of Crum-Ewing and formed the basis for the murder charge. However, he was cleared of the weapons charges in January last year.
Rodrigues was sentenced to three years in prison for the crime of escaping lawful custody. This matter was appealed and at the time of his arrest, Rodrigues was out on bail pending the appeal.
Crum-Ewing was killed on the evening of March 10, 2015 at Diamond, East Bank Demerara as he was urging residents to vote at the May, 2015 elections.
He was shot five times, including three times to the head.
Around the Web