A mason of Covent Garden, East Bank Demerara, (EBD), died at the Georgetown Public Hospital after he was stabbed on Monday night, and police have arrested a relative of the dead man following reports which suggest that she is the alleged perpetrator.
The deceased, Vishal Hansraj, 21, of Sea Dam, Covent Garden, EBD, was first rushed to the Diamond Diagnosis Centre for medical attention, and later transferred to the city public hospital.
The events leading up the stabbing are unclear. However, Police Commander of 'A' Division Clifton Hicken, last night confirmed that there had been an altercation between Hansraj and his relative, prior to his death.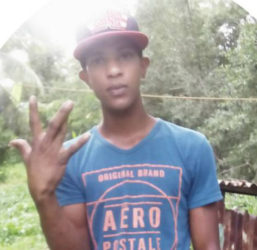 However, he said that in the initial investigations the matter was being treated as a wounding, but the direction of the investigation could change based on the results of an autopsy examination which is scheduled for today.
Stabroek News was informed that Hansraj had been stabbed twice in his back.
According to his mother, Sumintra Bridgmohan, Hansraj left home during the course of Monday to go kite flying on the Sea Dam, and she did not see him again until he returned with his wounds.
She stated that at the time, she was preparing to go to the hospital to tend to an injury, following an altercation she had had with the female relative.
The grieving mother said that her son did not mention to her how he sustained the injury but kept saying, "Mommy I gon' dead, I can't breathe," while they were on the way to the hospital. Hansraj bled profusely, as he was being transported to the Diamond Diagnosis Centre.
Bridgmohan explained that she had gotten into an argument with the female relative, after she had enquired if she and Hansraj had had a fight.
However, she said the female relative responded in the negative, but then started to verbally abuse her and pushed her, which resulted in her falling.  She added that at the same time the female relative  was armed with a knife and pulled it against her hand, resulting in an injury.
Stabroek News was told that a neighbour offered her assistance and called a taxi. The mother said as the taxi was about to depart, her son came calling out to her, and he was placed in the said car which took both of them to the hospital.
Around the Web