Police are investigating the circumstances surrounding the death of a Herstelling, East Bank Demerara, (EBD) joiner, who succumbed to injuries sustained from an attack on Sunday afternoon.
Balwan Ramsarran 41, of Third Street Herstelling, died at the Georgetown Public Hospital (GPH) around 5.00 am yesterday, relatives said.
Stabroek News was told that the man was consuming alcohol at a shop at Farm, EBD, when he was involved in an argument and later attacked.
Ramsarran, who was an employee of Jettoo's Lumber Yard, was rushed to the Diamond Diagnostic Centre in an unconscious condition and later transferred to the GPH.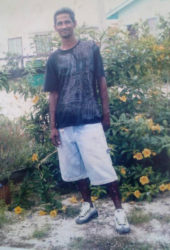 He remained in an unconscious state up to the time of his death.
According to the man's relatives, doctors informed the family that he was "brain dead" and was not responding to medications used to treat his injuries.
Ventia Ramsarran, the man's wife told this newspaper, that it was around 5.30 pm on Sunday he was attacked. She explained that Ramsarran and another customer at the shop had an argument, during which a friend of the customer intervened, and lashed him on his head with a piece of wood.
"After he [the suspect] lash he, he fall and was unconscious. He never come back to he senses," the distraught wife lamented.
She added that, her daughter who saw what had transpired, was on the road, and as the suspect passed, he uttered the words, "I done kill he," to his daughter.
The man's wife went on to say it was only when the family arrived on the scene that they learnt he had been brutally beaten.
Parbattie Winter, the deceased's sister, said that when they went to the hospital she observed injuries to his head and abdomen. She explained the marks on his abdomen were "black and blue," adding that "he was bleeding from his mouth and nose."
Winter stressed that doctors had informed the family that he was brain dead and had placed him on a life support machine. She related that yesterday morning they were informed that he had succumbed.
The family said that they would be demanding justice for the father of two, and called on the police to conduct a detailed investigation.
The body is currently at the hospital mortuary awaiting an autopsy.
Around the Web