Two days after she found herself at the centre of allegations of using her office to get preferential treatment at the Fort Wellington Hospital, APNU+AFC Region Five Councillor, Carol Joseph has resigned.
Her resignation was confirmed by the Region's Chairman Vickchand Ramphal yesterday. Ramphal informed that the resignation was handed in yesterday and announced at a meeting of the Council but that Joseph was absent. He did not give details as to the reasons for Joseph's resignation.
Stabroek News contacted Joseph who declared that she had nothing to say and that she did not want any newspaper contacting her.
However, sources close to her said that she was advised by "higher persons in government to resign".
The resignation came two days after the Region 5 Councillor found herself at the centre of a complaint by a nurse at the Fort Wellington Hospital and one day after the abrupt transfer of the same nurse to another facility within the region.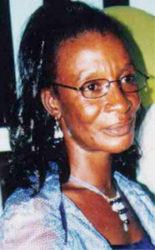 Nurse, Sherlyn Marks had lodged complaints twice last year against Joseph, over the latter's frequent access to pain killing medication. The nurse had copied her complaint to leading health, regional and government officials but no action had been taken. In Wednesday's edition, Stabroek News reported on her grievance and the fact that nothing had been done by the authorities. She had lamented that months after her first correspondence and a follow up letter on December 13th 2016,   there seemed to be no intervention. All this while, Joseph continued to access the system.
Marks' letter was addressed to then Minister of Health, Dr George Norton, but he has since been reshuffled to the Ministry of Social Cohesion with his successor being Volda Lawrence. This newspaper reached out to Lawrence's office, however, her Public Relations Officer, Terence Esseboom, said that she was out of the country on travel duty. He said that as far as he was aware, Lawrence does not know of the letter. He asked for a copy and Stabroek News provided him with same. He said that Lawrence would return to Guyana sometime next week and would address the issue.
On Wednesday, the same day that the news item appeared in Stabroek News,  Marks said she was summoned by the Region Five, Regional Executive Officer, Ovid Morrison who she said complained about her going to the press and that her letter of complaint had not been sent to him. She later received her letter of transfer.
A copy of the letter seen by Stabroek News, stated that the reason for the transfer was "in an effort to establish good vaccination coverage within this catchment area."
Marks said that she never asked for a transfer and felt that the unexpected transfer came because her complaints were made public.
The nurse's complaint would constitute the act of whistle-blowing and this government has long stated its support for such legislation but is still to present it to Parliament nearly two years on. Such legislation would protect whistle blowers. Marks' sudden and immediate transfer on Wednesday could be seen as action by the authorities to target a whistle blower.
Marks told Stabroek News on Wednesday that she was mainly concerned that she could be held liable if the drugs were given out improperly under the Dangerous Drug Act.
When Joseph was contacted on Tuesday by Stabroek News, she dismissed the claims about her improperly accessing the Fort Wellington Hospital drug supply stating that it was not true and someone seemed to be targeting her. "What? On my God! This is not true. My dear I wonder who is after me again. I want to know who is saying those things about Carol because when it is published I will sue them," Joseph stated.
Marks' original letter of complaint was sent through the Regional Health Officer of the Fort Wellington Hospital and the Acting Ward Sister of the said hospital. It was also copied to Dr. Kay Shako, Director of Regional Health Services; Dr. Shamdeo Persaud, Chief Medical Officer; Taramattie Barker, Chief Nursing Officer and a Matron Lyken (Only name used) who is the Acting Ward Sister. None of these persons acted on the complaint. Region 5 Chairman Ramphal and former Permanent Secretary Trevor Thomas were also sent copies of the letter.
Marks made clear that she had not asked for a transfer and could not see why the RDC office would choose to move her when she has no problems at her current place of work. Adding that her initial reaction was to not report for duty yesterday and instead visit the Ministry of Public Health head office, in the capital, to ascertain what really happened, she said that she decided on a different move.
After some thought and talks with her mother, she had decided that she would report for duty lest she be further penalized "possibly sent home for absence". In addition, she decided that she would later visit Georgetown to have an audience with officials to find out what was her ultimate fate.
But she did not have to wait on a later date as yesterday she was summoned to the Ministry of Public Health's Head Office, located on Brickdam in Georgetown.
A relative of Marks informed that she (Marks) was told that when Minister Lawrence returns to Guyana next week she would again be summoned and that she should prepare for that meeting.
Marks also visited the Guyana Public Service Union (GPSU), under which government nurses falls, to inform them of the issue and has to follow up later with them.
This newspaper understands that Marks is studying the rules of the Guyana Public Service that speak to her abrupt transfer.
Stabroek News spoke to Permanent Secretary of the Public Service Ministry, Reginald Brotherson, who referred the newspaper to a personnel officer who deals with similar issues and who has over 40 years experience in the public service.
The Personnel Officer, Mr Grant (only name given), explained that while not knowing the details of the nurse's matter, a public servant can be transferred within the region by the Regional Executive Officer (REO) without notice.
Quoting from Section D 6 of the Public Service Ministry's rules book he read, A Public Servant may, in the interest of the service, be transferred by his/her Permanent Secretary/ Head of Department/ Regional Executive Officer to any division, section or location of the ministry/ department / region in which he or she is serving."
He said that the nurse can lose her job if she does not report to the facility she was transferred to. "She has to go. In the public service the rule is 'Comply and then complain'.  She can go to the union after and all of that but she should comply first," Grant said.
Around the Web