Around two dozen rice farmers protested outside the Ministry of Agriculture yesterday, saying that the hikes in lease and drainage and irrigation rates would threaten the survival of the industry.
According to the protestors, the rates had increased from $3,500 annually to $15,000 per acre annually, which many of them could not afford. It was reported that land rent costs went from $1,000 to $8,000, and drainage and irrigation charges from $2,500 to $8,000.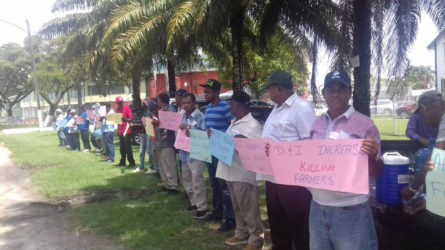 At Hope Estate, in Region 4, the combined costs of the rental and drainage and irrigation was said to have moved from $5,000 to $15,000.
The protest came hours before an opposition motion to reverse the increases was scheduled to be debated in the National Assembly. That motion was defeated.
The protestors were drawn from Region 4 (Demerara-Mahaica) and Region 5 (Mahaica-Berbice).
Herman Ramjit, a farmer from Bush Lot, pointed to the hardships currently being faced by farmers who are unable to meet their regular crop yield, and expressed disappointment at the way the government was handling the situation.
"This crop here, the damage weh rice farmers get, some of them can't able go back on the land… Me get 26% damage and me spray three time. Some man get one truck load paddy, which in, that truck does got to weigh 160 bag, you know how much bag he mek? 8 bags, and me can prove that to you. Eight bags of paddy, the mill can prove am to you too," Ramjit shared.
"Now with the MMA scheme all the trenches dem [silt] up. Share bushes a grow in the trench. This about three crops now, we gotta mek we dam weself. We gotta mek this dam weself to go reap we crop. So it's a very hard situation on the farmers them. When I tell you hard, hard. Where dem gon find this money from?" the man questioned.
Ramjit also shared his discontentment with the government he had voted for, and which had promised him a change.
"Me ah appeal to our President and our Prime Minister. Our Prime Minister promise abee the world. The world. And now we nah even a see he…. And he fuh wan mek me mek a change, because he was in the previous government and me like the attitude weh he operate with in deh. But now he's something vast different," he said.
Another protestor, H Ferguson, lamented that no one was paying attention to the farmers. "It seems to me nobody cares about farmers… a farmer is one of the most important people in a country because without food there is no existence…," he noted.
Jamal Hemerding, also on the protest line, related that after reaping, he gains nothing from the rice harvest, and so as a renter, the additional costs are no motivation to go out again to farm.
"We have had meetings with the Board of MMA-ADA [Mahaica Mahai-cony Abary-Agriculture Development Authority] and some of the board members expressed concern about this increase and they said clearly that at $3,500, farmers are unable to pay all their outstanding debt, and they don't see how, now, at $15,000 per acre, how is it that farmers will be able to pay this increase," Dharamkumar Seeraj, the General Secretary of the Guyana Rice Producers' Association said yesterday.
"Never in our history was such a huge increase imposed on farmers, especially at a point in time when the industry is not doing so well. Export has gone down, prices have gone down, farmers who were getting $4,000 per bag of paddy are now getting $2,400 and $2,500 a bag for their paddy. And even at $4,000 a bag per paddy when they were paying $3,500, now with almost less than half, they are asked to pay four and five times more than they used to pay before, so definitely the industry will not be able to survive the impact of this kind of increase," he added.
According to Seeraj, the farmers are calling on the government to revoke the increases, start consultations, and address the issues being faced by the farming community. "In other countries, agriculture gets subsidy. In this country here, they're penalizing agriculture to such an extent that we will go out of business… this move will definitely have an impact not only on production but also on level of employment, and you will have more people hitting the street," he argued.
Regional Chairman of Region 5 Vickchand Ramphal, making representation for his region's farmers, opined that the increase will only create further economic burdens across the board, and like Seeraj, called on the Minister of Agriculture and the MMA-ADA to review their decision.
"…For now, we are saying that there should not be any increase because of the current situation whereby the rice industry is being faced with many challenges, not only climate change, but also a decrease in price for paddy and the increase for agriculture and other machinery and equipment. And more recently we have seen government putting taxes on all agriculture machinery and equipment," he said.
According to an ad published last December, the new rates per acre per annum for the Abary/Mahaicony Block would range from $7,000 at most to $2,500. For the Mahaicony/Mahaica block, the new rate per acre would be $5,000, while the Abary/Berbice Block would see $8,000 being the highest rate and $1,000 being the lowest.
On January 18, Minister of Agriculture Noel Holder said that the increase in land rates was necessary to avoid the MMA-ADA "becoming another GuySuCo."
In a press release from the ministry, it was argued that "For the past 18 years farmers were required to pay $2,500 per acre annually despite the increasing cost of material and supplies in the provision of D&I [Drainage and Irrigation] services by the MMA/ADA."
Despite the low cost for land and drainage and irrigation services provided by the state, the statement said, some farmers were not even keeping their end of the agreement and were not paying their lease rates as stipulated by the MMA-ADA Act, hindering the body from executing planned works, such as the completion of the MMA phases two and three.
The Ministry said that the MMA-ADA received $357 million in the 2017 budget as the existing drainage and irrigation and land rent charges will not be enough to meet its operating costs.
While the protestors contended that no consultations were done with the relevant stakeholders, the statement said that Holder led a team on an outreach exercise to the areas where discussions were held on a number of issues, "with the increase in land rates taking centre stage."