Motor biker Stephen Vieira was last night taken into custody at the Cheddi Jagan International Airport for questioning into a cocaine find last Friday at Zeelugt.
Sources told Stabroek News that he arrived on a flight from Jamaica, was detained by the police and then handed over to the Customs Anti-Narcotic Unit (CANU).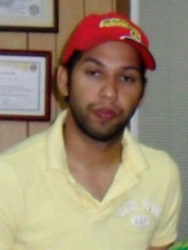 Meanwhile, the three men, who were held after the discovery of over 84.986 kgs of cocaine in lumber last week at Zeelugt, East Bank Essequibo (EBE), have been released by CANU.
A source at CANU told Stabroek News that the men were released as the 72-hour maximum period for detention without charge had expired.
It was explained that investigators did not apply for an extension since they did not gather any new information.
The men, Hakeem Mohamed, of Zeelugt, and Tazim Gafoor, and Nazim Gafoor, of Windsor Forest, West Coast Demerara, were held after the drugs were found last Friday.
CANU on Friday conducted a raid at Zeelugt, East Bank Essequibo during which 84.986 kgs of cocaine with a street value of over $550 million were found in dressed lumber.
In a statement on Sunday evening, the agency had said that the drugs were found at the Lot 227 Zeelugt premises of Mohamed. The drugs, the statement said, were found in hollow lumber bound for the United States.
The lumber, pallets of 1×6 boards, had been loaded onto a truck which was parked at the residence. "The said search revealed cocaine found in random boards scattered among genuine boards in each pallet; each of the compromised boards had a dug out cavity with the vacuum sealed plastic packets containing cocaine pasted therein," the statement added.
CANU had said that its investigation had revealed that the truck was hired to pick up and transport the lumber from Lall's Sawmill at Lookout, East Bank Essequibo to a wharf at Georgetown.
Tazim Gafoor was arrested on Monday, around 1.15 pm by police, who, acting on information received, went to a location at Parika, where they found him. He was later handed over to CANU.
Tazim's son, Nazim, who is a truck driver, and Mohamed were held as suspects on Friday when CANU agents swooped down on Mohamed's residence and made the discovery.
Tazim Gafoor was previously placed before the court for attempting to pervert the course of justice, last September following the unearthing of over nine kilogrammes of cocaine.
As the investigation of the discovery remains active, CANU is seeking Narine Lall, who is wanted for questioning. Lall is said to be out of the jurisdiction.
Four other persons were initially arrested but were released on Monday last, since CANU officials were unable to build any case against them.