Two brothers, inmates at the New Amsterdam Prison, were yesterday afternoon attacked by a gang of three men while returning to their cells at the prison. One of the brothers died as a result of the attack, while the other is hospitalised.
According to sources at the prison, Ramnarine Jagmohan, 31, a farmer, of Belvedere Squatting Area, and Neshan Jagmohan, 27, a cane harvester of Hampshire Squatting Area, who were both remanded on a murder charge, attended court yesterday and were returning to their living units, when three men attacked them with improvised weapons.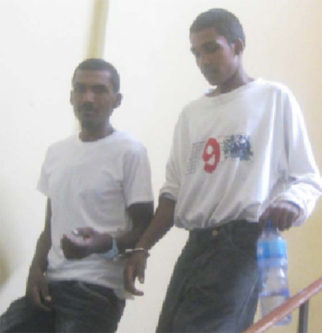 The duo reportedly suffered several stab wounds to their necks, chests and other parts of their bodies.
Neshan Jagmohan succumbed to his injuries, while his brother Ramnarine is currently in a stable condition, nursing injuries about his body at the New Amsterdam Public Hospital. The death will underline ongoing concerns about violence in prisons.
While an investigation has been launched into what may have been the cause of the attack, a source told Stabroek News that there had been a misunderstanding between the brothers and the trio sometime during the day.
The Jagmohan brothers were charged with murdering Hampshire businessman Devindra 'Dave' Deodat, who was shot dead during an armed robbery at his home, in October 2013.
Neshan Jagmohan had escaped from the New Amsterdam Prison on December 28, 2015. Stabroek News had reported that police acting on information received, had gone to an abandoned lot at Rose Hall, Corentyne, on the 7 January, 2016, around 8. 45 pm, and captured Jagmohan.
Following his re-arrest, he was questioned in connection with the murder of another Corentyne businessman which occurred on the 6th January, 2016.
Sometime in January, Neshan and Ramnarine had attacked a fellow prison inmate. The attack had left two inmates seeking medical attention. Sources had told Stabroek News, that Asif Hamid, 22, of Corriverton was involved in an argument over a cellular phone with the duo's younger brother Tameshwar Jagmohan, who is also in prison. However, Neshan and Ramnarine in apparently seeking revenge for their brother, had attacked Hamid while he was sitting at a table. The three brothers allegedly beat, chopped and stabbed Hamid about his body. This newspapers had also learnt that at the time of the incident Davenand Dhandhari, called Kevin, age 18, of Betsy Ground, East Canje, was sitting next to Hamid, and also suffered a thrashing as well.
Around the Web