Flooded East Coast residents should see some relief from midnight with the relocation of a pump, according to Minister of Public Infrastructure, David Patterson.
A statement from his ministry follows:
Minister of Public Infrastructure, David Patterson, today (June 24, 2017) urged residents of Guyana, particularly those affected by floods, to take precautionary measures for further rainfall, even as efforts are being made to alleviate the situation.
Minister Patterson led a team of engineers, government officials, and media operatives on a visit to the communities of Buxton and Vigilance on the East Coast of Demerara, in response to recent heavy rainfalls that have left many homes flooded. Minister of Agriculture, Noel Holder, was also present and provided critical updates on the works being undertaken by his ministry, through the National Drainage and Irrigation Authority (NDIA).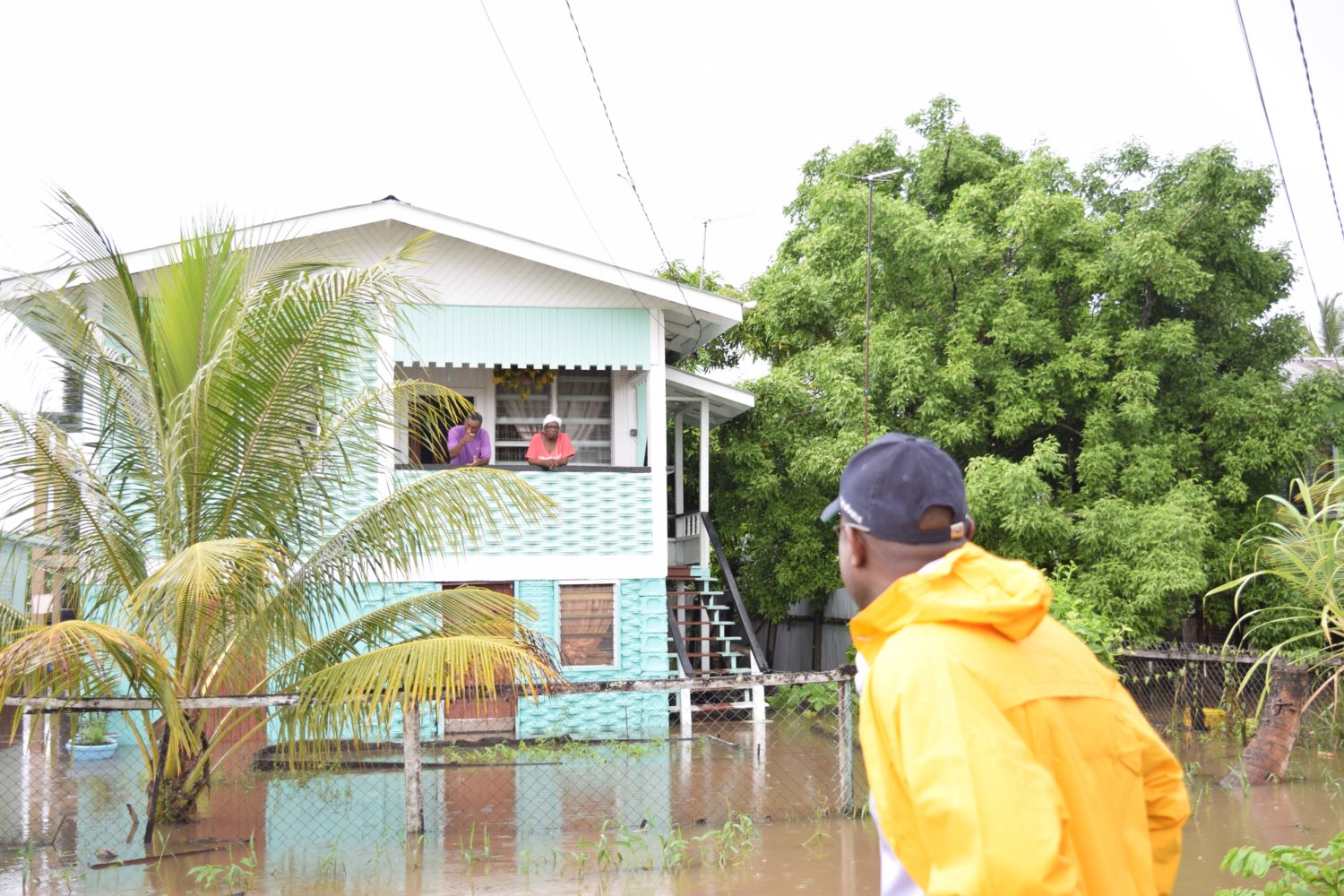 According to NDIA representative, Mr. Frederick Flatts, nearly 100 all of its 58 pumps were in operation. It was noted that the floodwaters were not due to lack of pumps but rather as a result of the heavy rainfalls. Furthermore, while it was initially noted that one pump on the lower East Coast was inoperable, by the conclusion of the visit it was reported that a pump would be relocated from Strathspey, ECD to Ogle in order to provide relief to residents in Atlantic Ville, UG area, and Cummings Lodge.
"So, by midnight tonight, they [the residents] should start to have some relief," Minister Patterson said.
Furthermore, in briefing the media, Minister Patterson shared that he has requested the Civil Defence Commission (CDC) to revisit the area in the coming days to ensure that affected residents are taken care of. He added that several interventions will be taken by the Government of Guyana over time, while more immediately efforts will be made to provide relief to the residents. Among these efforts is the distribution of care packs, which include sanitation items, to ensure that the health of the residents is maintained.
"We do empathise with the persons who are under water at the moment and we've asked them to take precautions for the next three days because the weather forecast does say that we will have rain," Minister Patterson said. He continued, "We as a government, in combination with NDIA and GUYSUCO, will do our best to get the water off as quickly as possible."
Meanwhile, it was revealed that long-term plans, including the construction of pump stations at Buxton, Vigilance, and Lusignan, are underway. Works have already commenced on the pump station at Vigilance and will conclude in the new year. "The fact that we are building these pump stations show that we recognise that there is a deficit," Mr. Flatts emphasised.
Around the Web