One woman is now dead and four others are hospitalised after a drunk driver lost control and crashed into the Liliendaal bridge on Saturday night.
Dead is Debra Pompey, 36, of 473 Belle West Housing Scheme, Canal Number 2, West Bank Demerara and a pharmacist attached to Medicare Pharmacy.
According to a police statement on the fatal accident, which occurred at about 11.40 pm on Satur-day on the Liliendaal Railway Embankment, investigations revealed that motor car PSS 7195 with six females  including Pompey, was proceeding west along the southern carriageway allegedly at a fast rate when it collided with the southern rail of the Liliendaal Bridge.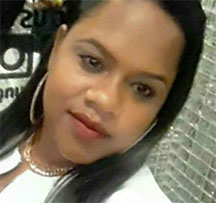 The statement said that Rodlyn Grace, 20, of 24 Blygezeight Gardens; Shameica Martin, 18, of 84 Sideline Dam, Beterverwagting, East Coast Demerara; Tushana Hubbard, 26, of 473 Belle West Housing Scheme, Canal No. 2, Polder, West Bank Demerara; Saskiya Boyer, 30, of 228 Lodge, Georgetown and Petona Welcome, 27, of 391 Austin Street, Campbellville, George-town were all admitted as patients of the Georgetown Public Hospital.
The statement had said that a 28- year old man was the driver, but this was later changed and further investigations revealed that it was Welcome who was the driver of the car. The male who was mentioned was the owner of the vehicle.
Reports are that Welcome, who suffered a fractured left arm and was discharged, is in police custody assisting with the investigation. She was tested and found to be above the legal alcohol limit.
When Stabroek News spoke to Pompey's sister, Hubbard, who was also in the car, she confirmed that a female had been driving. Hubbard, who is currently hospitalised after both of her legs were broken, said they had left a bridal shower at the Giftland Mall and were making their way to  bar when tragedy struck on the bridge.  Hubbard told Stabroek News that they were all having a good time at the mall and wanted to continue elsewhere.
"My sister was in the front seat, she was coming at the back with me when they sent her to the front because she get more size" Hubbard related. Hubbard who could not recall the details of the accident said that their car, while heading towards the bridge started to swerve and then they crashed. "I don't know is what happened really, I was sitting right behind the driver, and by I am short I really couldn't see what was happening in front… I felt the car start to swerve, I don't know if she missed anything or another vehicle was coming towards us", Hubbard said.
The injured woman related to Stabroek News that she remembered the women in the car screaming and then she found herself  on the grass and then later in the hospital.
Meanwhile, close friends of the injured who were at the hospital yesterday afternoon said that the two sisters initially plan-ned not to travel with the car but later changed their minds. One friend told Stabroek News that she was with the bridal shower party at Giftland but left earlier after she was feeling unwell. She lamented that maybe if she had told them to leave with her,  Pompey would have probably still been alive. She said that the women had agreed to meet up at Giftland for 7:00 pm but they arrived late. The friend also added that the venue for the shower at the mall was a last-minute decision, since it was to be kept at a hotel in Georgetown.
Up to press time Stabroek News was told that two of the women were listed in  'serious' condition.