Public Health Minister Volda Lawrence yesterday accepted some $20M in medical equipment and supplies from the Government of China to help in the fight against Zika and other infectious diseases.
A statement from the Ministry of Public Health said that the equipment will be employed in the Reference Laboratory of the Georgetown Public Hospital Corporation (GPHC).
"I want to thank the Chinese Embassy and the people of China for the continued support in the medical field and look forward to other support for the Reference Laboratory", Lawrence said following the signing ceremony at the GPHC.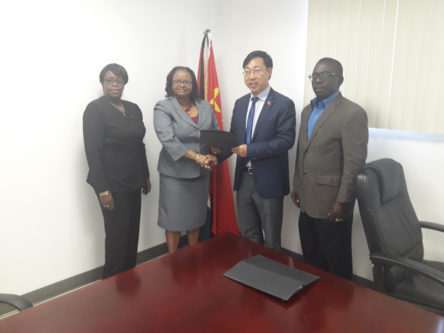 "We are glad to do something in the public health sector for the Guyanese people," Shen Huiyong, Economic and Commercial Counsellor of the Chinese Embassy in Georgetown said in reply to Lawrence's address.
The equipment included two centrifuges and a laptop, to support testing for new and emerging infectious diseases here.
The instruments are accompanied by  testing supplies including reagents.
The vector control services will be boosted with mosquito traps and knapsack manual sprayers to support prevention and control activities, the release added.
The team of Chinese specialists comprising Dr. Yanping Zhang, Dr. Yongjun Jiao, Dr. Zhifeng Li and Dr. Ye Tian, has been on a one-month stay here working with the Vector Control, Reference Laboratory and the Surveillance and Epidemiology Units.
It said that the team also conducted training sessions with the hospital staff "across all of these areas and donated equipment and supplies to the laboratory and vector control services."
Some areas of training included the use of MapInfo to show the distribution of disease cases and the density of the mosquito vector.
Vector control staff were also trained in calculating the Breteau Index "a measure of disease risk based on the density of the vector in a particular area, as well as identifying mosquito species throughout the life cycle stages."
During their stay here, the release said that the medical team also visited several health facilities in Region 4 to gain a better understanding of Guyana's health sector.
Around the Web