An early morning accident along the Skeldon Public Road has left a Line Path, Skeldon pedal cyclist dead.
Yatandeo Hiralall, 59, of Lot 7 Line Path, Skeldon was riding north along the western side of the Skeldon Public Road, yesterday around 7.30 am, when he reportedly attempted to overtake a Canter truck, GKK 7698. According to information gathered, Hiralall was struck from the rear by the said truck.
He was rushed to the Skeldon Public Hospital, in a semi-conscious state and succumbed to his injuries sometime around 11 am.
The 76-year-old driver of the motor lorry is presently in custody assisting with the investigation. According to the police, his  alcohol level was tested and found to be at zero percent.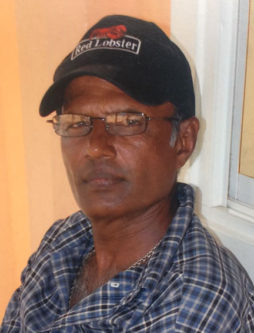 An eyewitness told Stabroek News that he heard a loud crash and ran out of his house, where he saw Hiralall lying next to a drain, while his bicycle was on the parapet. The man explained that he saw the Canter truck speeding away. However, he noted that he and other neighbours immediately rendered assistance.
He then noted that moments later, the Canter that had allegedly hit the man returned, but failed to render any assistance. The eyewitness was the person who rushed Hiralall to the hospital.
Meanwhile, according to Hiralall's relatives, he would usually leave home early morning to "ride out his birds".
His wife, Ramdey Hiralall, recalled that her husband had left home around 6 am yesterday and had told her not to play the music loud while he was out. However, she said, she was finishing up her chores when she was informed that her husband was at the Skeldon Hospital.
She stated that she saw Hiralall at the hospital, noting that only one foot was swollen at that time. "He didn't get none injury outside, the doctor say he get internal injury and that he na get head injury," she said.
She told this publication that doctors at the Skeldon Hospital had informed her that Hiralall would have to be transferred to the New Amsterdam Public Hospital to undergo a few tests. However, she claimed that there was no ambulance present at that time, at the hospital, hence her husband had to wait for a few hours to be transferred. "Me ask where the ambulance deh, but the doctor say about forty minutes more, and be time that the doctor come out and tell me he dead. The ambulance take long to come from 7. 30 (am) time till 10 (am) it meet."
The woman is of the belief that had the ambulance been on time to take her husband to the New Amsterdam Hospital, the necessary tests would have been done, and he could have been treated properly for the internal injuries he had sustained.
Hiralall was a father of two, and was a lover of animals.
Around the Web