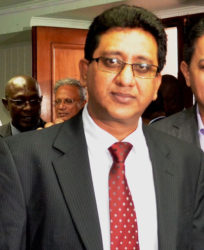 Former Attorney General Anil Nandlall yesterday said the Special Organised Crime Unit (SOCU) applied for a warrant to search his home for 14 law reports he is charged with fraudulently converting to his own use.
Nandlall said he believed that the intended search of his home was an act of retaliation for his recent criticism of government wrongdoings and specifically speaking out on Minister of Public Health Volda Lawrence's role in the purchase of hundreds of millions in drugs and the increase in rentals for the homes for ministers.
"I believe that this thing has been resuscitated because of what I have been saying recently about Volda Lawrence with the drug purchase and now with this parliamentary rental of living accommodations," Nandlall told the press yesterday as he stood on the bridge of his Bel Air Park home.
Nandlall, an attorney and a PPP/C Member of Parliament, informed that he got word from reliable sources that SOCU was applying yesterday for a search warrant for the Bel Air property and he rushed down to the court to let them know the act was unlawful. "I got information and I went to the court just now and I saw them. They are in the process of applying and they signaled to me that they are coming," he stated.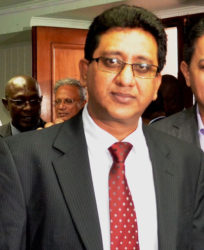 Former president Donald Ramotar and many former ministers of his government gathered at Nandlall's home as did members of the press.
However, up to press time no SOCU officials had visited the home and calls to the agency's head, Sydney James, to verify Nandlall's claims were unsuccessful.
An upset Nandall told reporters that he would not allow agents of SOCU entry to his premises because of a standing court order obtained on April 25th of this year.
Justice Dawn Gregory had granted a conservatory order restraining SOCU from taking custody of the law reports that he says that the PPP/C government purchased for him.
In the order, agents of SOCU or the Guyana Police Force are prevented from "seizing and/or detaining the property" of Nandlall, which was described as "Commonwealth Law Reports for the years 2012 to May, 2015."
Nandlall, in his application for the order, had stated that the books were purchased as part of the terms of his employment contract, which he negotiated with then president Ramotar.
"In discussions I had with His Excellency, President Donald Ramotar, immediately prior to my appointment as Attorney-General and Minister of Legal Affairs, I requested that as a condition of my service, that the Government of Guyana take over the payment arrangements I had with Lexis Nexis (U.K.) in relation to the said Commonwealth Law Reports for the period during my tenure as the Minister of Legal Affairs and Attorney-General. This was agreed upon as a condition of my service as Attorney-General and Minister of Legal Affairs," he stated in an affidavit.
"As such, Lexis Nexis (U.K.) were accordingly informed and sometime during my tenure, the payment arrangement for these books were changed and the Ministry of Legal Affairs begun to pay for the said Law Reports. When I demitted office, I so informed Lexis Nexis (U.K.) and I requested that the payment arrangement that existed (previously) be reactivated and the same was done. Approximately, fourteen (14) Commonwealth Law Reports were received by me under the aforesaid arrangement," it added.
Nandlall maintained this position yesterday, saying that while he can afford to pay for the reports, he would not since it was a matter of principle and the law must be upheld. "It was never about money. It was never about not being able to afford the law books that is not my concern at all. I offered to SOCU to buy 15 brand new books from the company, unused and deliver it to them by DHL tomorrow morning, if they want.
It is not about that. It is about what my rights are, what my entitlements are. It is about my property. I can give them 14 or 15 law books tomorrow—I said that to them already–but if you give in to injustice an inch then they will come for 10 inches, then they will come for a yard," he said.
"It is not about that. Everybody knows I can afford the books. It was never about the books, it was about the principle…I have been charged, I have been released on my own (recognisance), the criminal case is ongoing, the books can't affect the prosecution's ability to proceed. What has happened over the last 24 to 72 hours that would have precipitated this new vendetta? It is just because I have made two public statements recently," he added.
He said that he will defend his rights as he believes that the SOCU agents are misinformed into believing that his April 25th order has been discharged. "I was calling them to explain it has not… I went myself to extract the latest court order and that is still extant and in force," he asserted.
He said if SOCU agents showed up to his home, "they will have to break this gate down and the world will have to know" since he would not be allowing them entry.
Around the Web