The National Frequency Management Unit (NFMU) yesterday commissioned a spectrum monitoring system that will detect and analyse radio waves across the country, aiding in radio frequency management, and improving the delivery of radio and television signals.
NFMU Director Valmikki Singh stated that the system, which includes a fixed station, a transportable station and a mobile station, was acquired from TCI International Inc at a cost of US$563,873.
The fixed frequency monitoring station is located on the roof of the Ministry of Foreign Affairs building on Croal Street and will serve Georgetown and the surrounding areas.
Singh said the mobile station is "geared for rapid deployment and can travel to any area a 4×4 can go," while the transportable station, designed to operate as a satellite, can be deployed to various locations. The plan is to use it to serve the areas outside of Georgetown. The stations can work independently or as an integrated system.
Singh stated that acquiring this equipment was vital because the ICT sector was a rapidly expanding one globally, and the radiofrequency spectrum was important for the efficient and effective delivery of services in Guyana.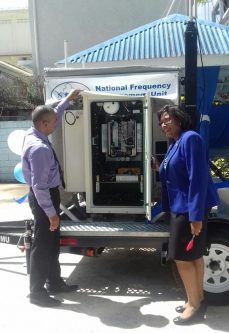 Spectrum Engineer Yoganand Singh explained that among the uses of the system are the ability to observe real time frequency signals and analyse them, to observe abnormalities in the system and to detect and ultimately locate any frequency by accessing the map bearings.
Overall, the goals of spectrum management, as related by the NFMU Director, include ensuring that the radio and television receptions received by the public are of an acceptable quality; providing data to support the assignment of frequencies, and detecting and identifying illegal transmitters.
"Why this equipment and this development is so important for us in the ministry and of course in our thrust to move the industry forward is that for the first time we can measure accurately how that spectrum is being used; who is using that spectrum. We can bring transparency to the process, we can ensure that we reduce the illegal use of spectrum and since spectrum is a national resource, it belongs to the people and it belongs to Guyana. It is important to make sure that as a country we are able to garner the best resources for the spectrum that is available to us," Minister of Public Telecommunications Cathy Hughes stated during her address.
The Telecommunication Act 2016 has provision for a telecommunications agency, Hughes further stated, which will facilitate the future operations of the NFMU. To this end, a consultant was engaged. She stated that the individual looked at such aspects as the allocation of spectrum and the pricing systems employed here and a final report is expected soon.
"We are committed as an industry and as a ministry to ensuring that as we go into this new phase, post-liberalization I like to say, that we are going to be able to step up to the plate," she added.
Around the Web