Guyana Shore Base Inc (GSBI) at Houston, East Bank Demerara today advertised dozens of oil and gas positions for what appears to be the onshore base which will be used by ExxonMobil.
In an advertisement in today's Stabroek News,  GSBI said it is a joint venture company based at Houston, Greater Georgetown. It listed its address as Plantation `A' (Muneshwers Limited Houston Port), Houston. Muneshwers was in competition with John Fernandes Limited to provide an onshore base for ExxonMobil.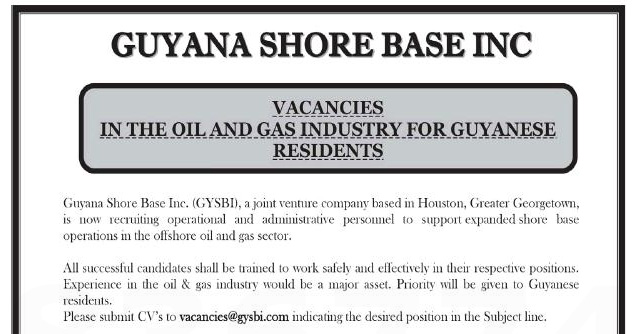 Among the administrative positions advertised are senior accountant, executive director and office manager. In the category of operational positions, GSBI is seeking a port/shore base manager, yard foreman, crane operators, forklift operators, senior diesel mechanics, industrial electricians, auto electricians, stevedores and articulated vehicle drivers among others.
CV's can be submitted to vacancies@gysbi.com . Hard copy applications can be tendered at Plantation `A' , the Muneshwers complex at Houston.
Following ExxonMobil's clinching of a production licence onshore and offshore activities are expected to accelerate in the lead up to 2020 when pumping of oil is scheduled to begin.
Around the Web