Wismar residents affected by the recent floods are expected to get some relief tomorrow, according to Region Ten Chairman Renis Morian.
"By Friday it should be fixed. The biggest challenge however is the high tide, we are experiencing extremely high tides. The water is too much… Engineers travelled to Linden yesterday  and the matter is one of top priority", Morian told this newspaper yesterday when contacted for an update on the situation.
The Regional Chairman added that he would have received correspondence from the Chief Executive Officer of the National Drainage and Irrigation Authority Fredrick Flatts and at present all resources are being committed to remedy the situation.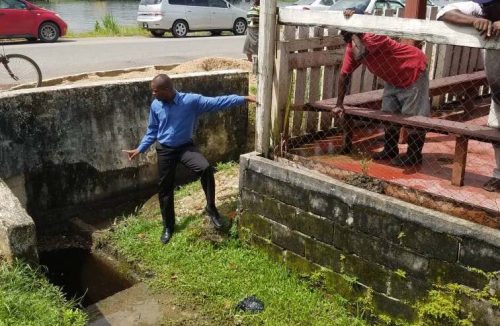 Residents had told this newspaper that on Friday last they woke up to flooded surroundings. Asked why the koker has been without a door for the past year, Morian said that, "Public Infrastructure gave a contract to do all the koker doors…a resident stopped the work. We [the region] knew after the fact that the koker was without a door. What he should have done was come to the RDC  (Regional Demo-cratic Council) to validate what was being done."
According to one resident, the koker door at Poker Street has not been in place for over a year and as a result residents around the area are always hard-hit by the flood, especially when the tide is high.
Another resident had related to this newspaper that the flood waters are rising sometimes twice a day. She had also added that, "people from the clinic and region came around and give out one bottle of marvex. Wah marvex could do? The yards rank through here and I am hearing Silvertown and Christianburg deh worse. They need to give us something to spray out the place because the mosquitoes are starting to settle in the water," the woman said.
Linden Mayor Carwyn Holland on Monday had issued a call for assistance for residents of the town who have been severely affected by flooding. According to Holland, the flooding experienced recently is the worst the region has seen in years and highlighted that he recalled severe flooding in 1988 but it did not reach the current magnitude.
Holland had also said that the council is currently in discussion with the Linden Electricity Corporation and medical personnel. "We are in contact with the electricity corporation so that they can go into the area to ensure that no one gets shocked and also to check out those persons who were severely affected." On Sunday, Byron Kendall, the District Community Development Officer attached to the National Drainage and Irrigation Authority had acknowledged that First, Second and Third Alleys are experiencing flooding owing to the absence of a koker door.
Around the Web