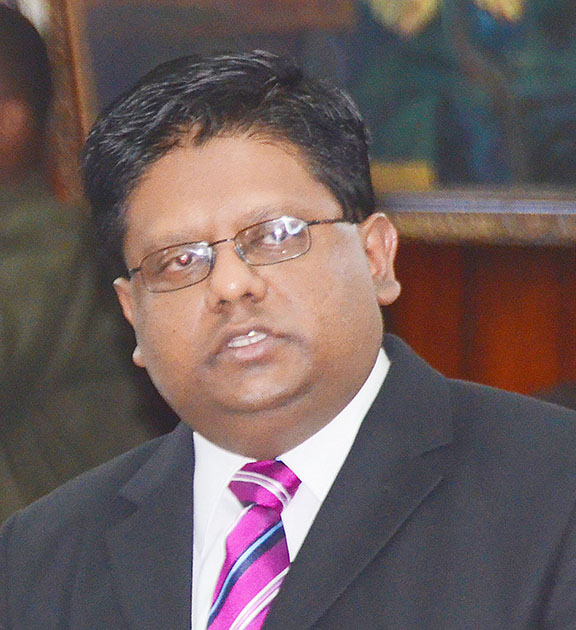 The Special Organised Crime Unit (SOCU) was yesterday notified that former Finance Minister Dr. Ashni Singh is available to investigators conducting the NICIL probe and his local attorney, Anil Nandlall made it clear that his client is not in hiding but is in fact working abroad.
Nandlall shared the letter he sent to SOCU head Sydney James with the media and later told Stabroek News that its penning and subsequent delivery was as a result of the misleading and defamatory impression conveyed of his client in the press, in which SOCU is implying that he may be guilty of some wrong.
This newspaper in its Sunday edition reported that SOCU was making serious efforts to question former NICIL executive director Winston Brassington and Singh in connection with the findings of a forensic audit into the management of NICIL. SOCU is currently conducting a criminal investigation and so far more than half of the 86 files which pertain to the investigation have been sent for legal advice.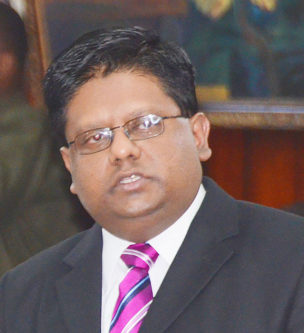 The letter which was penned to James informed that Nandlall is Singh's attorney and that although out of the jurisdiction, the former PPP/C Cabinet member "always was and remains accessible, ready, able and willing to provide all or any information at his disposal which your unit may require".
It stated too that contact can be made with Nandlall if any information is required or questions needed to be asked.
Brassington who resides in Florida where he runs a business, sent a similar letter to SOCU more than a year ago. Attorneys Mark Waldron and Devindra Kissoon are his representatives in Guyana.
Brassington stated in his letter that he had notified SOCU and the police of his willingness to co-operate fully with any investigations they may be conducting.
His letter was in response to this newspaper's article which was published on Sunday. Sources say SOCU and SARU may want to speak directly to Brassington and not through his counsel.
Brassington stated that he was surprised by the report as over a year ago his attorneys had written to James and the Police Commissioner, Seelall Persaud notifying of his willingness to co-operate with any probe. He released a copy of the letter which stated  in part that "…despite being out of the jurisdiction, Mr Brassington is available to fully co-operate with any investigations, and provide evidence by affidavit or video conference as is necessary to facilitate any inquiries".
He said SOCU has made no effort to contact him since his attorneys' letter of April 14, 2016.
This newspaper has confirmed that James and Chief Executive Officer (CEO) of the State Assets Recovery Unit (SARU) Major (rtd) Aubrey Heath-Retemyer are presently in Florida but it is unclear why or for how long. All this newspaper is being told is that they are on "official government business" but it is believed that they will make an attempt to speak directly to Brassington.
Based on the information reaching this newspaper the duo so far has made no attempts to make contact with Brassington though they have an address for him.
Stabroek News was told previously that Singh's whereabouts are unknown. Singh at one time was residing in the Maldives, an island chain located in the Indian Ocean before he moved to Dubai. It is believed that he now lives somewhere in the United States.
Nandlall stressed that his client is accessible and available.
He said that no attempt was ever made to contact him, yet "ever so often the nation is fed with these …blazing headlines that investigators are seeking and searching for my client as though my client was in hiding". Nandlall said that Singh is currently working which he is entitled to do, as he has a family to maintain.
Former Auditor General Anand Goolsarran, handed over his report to government about 18 months ago and there is growing concern that an investigation is being conducted without the key players being questioned.
Goolsarran, among other things, recommended criminal and/or disciplinary action against all those responsible for the interception of state revenues totalling $26.858 billion in violation of the Constitution. Goolsarran had said that several laws were broken.
Around the Web