Two Number 46 Village, Corentyne shop owners were attacked and robbed yesterday by two men armed with a shotgun and a knife.
Kumarie Kumaldeo, 57, and her husband, Kumaldeo (only name), also known as 'Pandit,' 58, were left traumatised after the attack at the grocery they run at Number 46 Village, Corentyne, which is under their home.
Kumarie told Stabroek News that the attack occurred around 1.30 pm, when the two men entered her shop. One of them ran up to her and held a knife to her throat and instructed her not to scream. "He say don't scream or me go shoot all two ayo," she said. "Them take a tape and tape down me two hand and tape me mouth right away around and shove me down… and tell me don't move or me go kill ayo," she added.
She further recalled that the men ordered her to hand over her money and jewellery.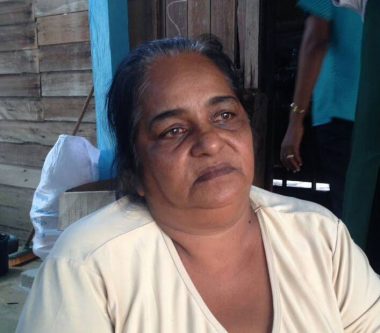 She said she pointed to where the money was located in the shop and indicated that there was also a sum of cash in the back room of her house. She added that she begged them not to hurt her or her husband but to take whatever they wanted. "$10,000 went in the backroom in the wardrobe and me had about $33,000 downstairs and it had some phone cards. Them take all," Kumarie said. "Me give them me two finger rings and me earring wah me get on.
Them say them want more jewellery. Me tell them me na get more. Them say '… you got to get bangle.' Me tell them me break me bangle and give me two children them. Them start cuss up, 'them go kill abie,'" she added.
The woman explained that they also taped her husband's hands and feet together, after which they put the couple in a location in the shop where no one could see them from outside. "Me beg them na kill abie, let them search and take what them want," she said.
According to Kumarie, at this time a child arrived to make a purchase at the shop.
She said the bandits told the child to enter and that her husband was in the backyard. However, she said the child paid them no heed and ventured out of the yard.
"Then them ask where me inside step and me tell them abie na get. The one say if me go go upstairs with he and me said, 'Yeah, me go go.' He pick a knife again pon me neck. Me tell he me na get none more money, me buy goods. He say if abie too old people a live here and me say yes. He say 'Abie go dead now,'" she recounted.
Kumarie explained that while one of the perpetrators was upstairs in her house, two teenage boys came to purchase something at the shop and it was then that the men decided to leave. "When them boys come to buy something, them [bandits] walk out and gone," she said.
It was the teenagers who freed them, after which the police were summoned. In total, the men carted off $43,000 in cash and $22,000 in phone cards.
The couple recalled that the perpetrators, who were not masked, kept asking them several times during the 20-minute attack if they knew them. However, the couple said they had never seen the men before.
Police in the Upper Corentyne area have since launched an investigation.
Around the Web