President David Granger opened the 2017 Visual Arts Exhibition at Castellani House, the National Art Gallery, on Thursday evening and he said he has been practicing "art diplomacy" to promote the work of local artists.  "Some of you may not be aware that I actually practice art diplomacy… When I went to Barbados' 50th anniversary of Independence, I presented a huge painting of the Canje Pheasant and I presented a wooden carving by Winslow Craig. I have been selling Guyana's art abroad… When I went to the Bahamas earlier this year, I presented a painting of the jaguar, our national animal. I don't make any bones about my patriotism and my support for the arts. If a diplomat comes to see me he is going to get a little pottery. So I try to practice art diplomacy by putting Guyanese art into the diplomatic field," Granger was quoted as saying by the Ministry of the Presidency, before declaring the exhibition officially open.
According to the ministry, Granger, who is the patron of the Guyana Visual Arts Competition and Exhibition, also hinted at his intention to support art exhibitions across the country. "I do hope that more Guyanese children will get a chance to see exhibitions like this… There is no reason why every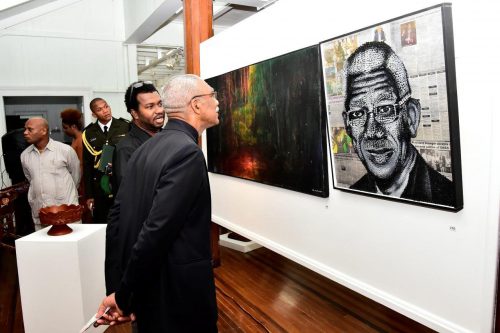 region should not have a capital town and every capital town should not have an art gallery," he said, while pointing out that each region has its own unique geographical zones that inspire the creation of the wide variety of visual art pieces.
The ministry said that prior to the opening of the exhibition, Granger attended the award ceremony for the competition, which was held at the National Cultural Centre.
It noted that the mission of the Guyana Visual Arts Competition and Exhibition is to give recognition and support to the creative work of Guyanese in the visual arts, and to provide a source of inspiration to Guyanese artists, thereby stimulating the development of the finest expressions of the visual imagination. The competition was judged in six categories: painting, drawing, sculpture, ceramics, fine craft and photography.
This year's winners are: Stanley Greaves (painting), Compton Babb (drawing), Oswald Hussein (sculpture), Vandyke David (ceramics), Michael Khan (fine craft) and Nikhil Ramkarran (photography).
Additionally, the ministry noted that this year the management committee of the Guyana Visual Arts Competition and Exhibition presented a lifetime achievement award to Jorge Bowenforbes, a veteran painter, poet and author, whose work has been exhibited in galleries in countries such as Mexico, Britain and Australia. Bowenforbes, while receiving his award, said that though he has won a total of 251 awards overseas, being recognised in the land of his birth means lot more to him.
The exhibition runs until August 19. Admission is free.
Around the Web