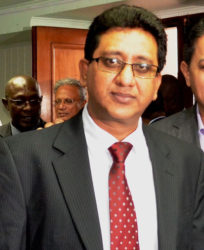 Attorney Anil Nandlall yesterday said he would move to the courts for an order to quash a search warrant the Special Organised Crime Unit (SOCU) has obtained to search his property to locate, among other things, the 15 law reports he is alleged to be unlawfully keeping.
"During the course of next week, I will [pursue] court proceedings to quash the court warrant," Nandlall said at a press conference he called yesterday as he once again bemoaned SOCU's actions.
On Tuesday, SOCU applied to the court for a warrant to search his home for the law reports he is charged with fraudulently converting to his own use.
Producing copies of the warrant, Nandlall reiterated that SOCU's action was unlawful since he has a conservatory order, issued by the High Court, restraining SOCU from taking custody of the 15 law reports that he says that the PPP/C government purchased for him.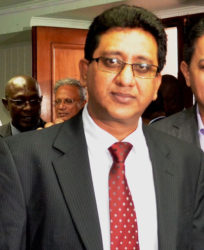 As a result, he vowed to do all in his power to defend what he believes was his just keeping of the law books.
"This is a serious issue because it concerns law and order in this country," he said.
Nandlall, a former Attorney General, has said he believed the intended search of his home was an act of retaliation for his recent criticism of government.
He even claimed that Attorney General Basil Williams contributed to SOCU seeking Tuesday's warrant.
"They wanted to come to my house and harass me…I have no doubt that the Attorney General had a hand in this," he said.
Around the Web