(Reuters) – West Indies captain Jason Holder took five wickets as they beat India by 11 runs in a low-scoring one-day international on Sunday.
After West Indies eked out 189 for nine wickets off their 50 overs, India could muster only 178 all out off 49.4 overs in reply at North Sound on the island of Antigua.
India lead the five-match series 2-1 going into the final game in Kingston, Jamaica on Thursday, where the home team will have a chance to draw the series.
India, who made three changes from the team that won the third game on Friday, were disappointing with the bat.
Even Mahendra Singh Dhoni was not immune from criticism, scoring a painstaking 54 off 114 balls, with just one boundary, as the visitors fell behind the required run rate chasing a modest total.
Opener Ajinkya Rahane top-scored for India with 60 off 91 balls. Only he and Dhoni scored more than 20.
Holder picked up 5-27 with his right-arm fast-medium bowling, including the prized scalp of India captain Virat Kohli for the second match in a row.
"Extremely pleased with the guys," Man of the Match Holder said in an on-field interview.
"It took a big effort. Credit must go to all the bowlers (and) I thought the fielding was very supportive. We knew we could beat India. Just needed some application."
Holder admitted batting was still "a concern" and said he thought 250 would have been a "par score."
Kohli, meanwhile, was also downbeat about his team's performance with the bat.
"We bowled really well to restrict them to 189," he said.
"Our shot selection wasn't up to the mark. It felt a bit two-paced. Apart from that I don't think there was anything else in the pitch. With the bat we faltered and that can happen in this game. We just have to put this behind us and come back fresh for the next game."
Scoreboard
WEST INDIES
E Lewis c Kohli b Kuldeep Yadav 35
K Hope c Jadhav b Pandya 35
+S Hope c wkp Dhoni b Pandya 25
R Chase b Kuldeep Yadav 24
J Mohammed c Jadeja b Pandya 20
*J Holder c wkp Dhoni b Yadav 11
R Powell c Jadeja b Yadav 2
A Nurse c & b Yadav 4
D Bishoo  run out 15
A Joseph not out 5
K Williams not out 2
Extras (lb1, w10) 11
TOTAL (9 wkts, 50 overs) 189
Fall of wickets: 1-57 (K Hope, 17.2 overs), 2-80 (Lewis, 21.5), 3-121 (Chase, 31.2), 4-136 (S Hope, 35), 5-154 (Holder, 38.1), 6-161 (Powell, 40.5), 7-162 (Mohammed, 41.2), 8-179 (Nurse, 47.2), 9-184 (Bishoo, 48.4)
Bowling: Mohammed Shami 10-2-33-0, Umesh Yadav 10-1-36-3 (w6), Jadeja 10-0-48-0, Pandya 10-0-40-3 (w4), Kuldeep Yadav 10-1-31-2.
INDIA
A Rahane c wkp S Hope b Bishoo 60
S Dhawan c Holder b Joseph 5
*V Kohli c wkp S Hope b Holder 3
D Karthik c wkp S Hope b Joseph 2
+MS Dhoni c Joseph b Williams 54
K Jadhav c wkp S Hope b Nurse 10
H Pandya b Holder 20
R Jadeja c Powell b Holder 11
K Yadav not out 2
U Yadav b Holder 0
Mohammed Shami c Chase b Holder 1
Extras (w 10) 10
TOTAL (all out, 49.4 overs)  178
Fall of wickets: 1-10 (Dhawan, 2.1 overs), 2-25 (Kohli, 6), 3-47 (Karthik, 12.4), 4-101 (Rahane, 30.5), 5-116 (Jadhav, 35.4), 6-159 (Pandya, 45.1), 7-173 (Jadeja, 47.3), 8-176 (Dhoni, 49), 9-176 (Yadav, 49.1), 10-178 (Mohammed Shami, 49.4)
Bowling: Joseph 9-2-46-2 (w4), Holder 9.4-2-27-5 (w2), Williams 10-0-29-1 (w3), Bishoo 10-1-31-1, Nurse 10-0-29-1, Chase 1-0-16-0 (w1).
Result: West Indies won by 11 runs.
Series: India lead five-match series 2-1.
Man-of-the-Match: Jason Holder.
Toss: West Indies.
Umpires: Chris Gaffaney, Joel Wilson; TV – Kumar Dharmasena.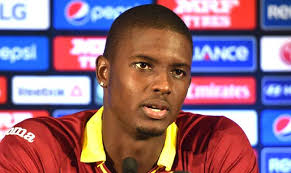 Around the Web