Bent on receiving severance payments and not taking up jobs at Uitvlugt, cane-cutters and cane transport operators of the Wales estate may lose their jobs if they miss two consecutive crops.
They have already missed one crop for this year and Industrial Relations Manager of the Guyana Sugar Corporation, Deodat Sukhu said they have one more crop to consider.
He was at the time speaking to the media on Thursday following an unsuccessful meeting at the Wales Community Centre that attempted to inform workers about the Uitvlugt Estate Improvement Programme (UEIP).
He said the agreement is that they cannot miss two consecutive crops and that they have this coming crop to work to avoid self-terminating their services.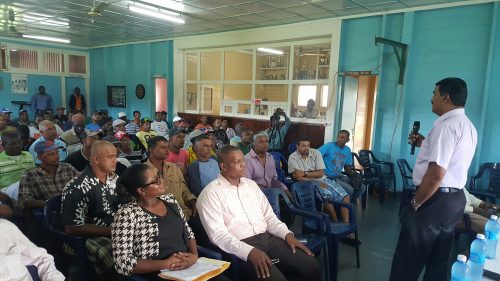 He said the matter is currently before the court and the court can terminate them or they can be self-terminated.
He encouraged them not to let that happen, as this would leave them without a job and without any benefits. Asked whether the workers were aware of their services being self-terminated, he said that among the grouping, there are representatives who understand union agreements.
Before the meeting started, the workers had converged on the roadside and insisted that they would not be going to Uitvlugt because the time it takes to get there would prevent them from achieving their target.
To that, Sukhu said they should ask the 51 employees who worked 68 days at Uitvlugt and are earning an average of $4,200 per day, which is far greater than their expected $2,600.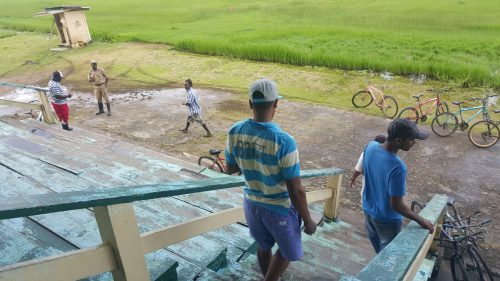 He said too that of the Wales estate employees, 389 were severed, 301 were kept at the estate at Wales and a further 375 are needed at Uitvlugt.
They held six meetings to consult with the workers [in groups of 50] and the union and based on the date used, it was found that the total years of service  averaged  about 13 years. The average age was said to be 43 years, along with 17 years of working life.
He said if severance is considered, it would be 38 weeks' payment and since the money would not be much, it would be better for them to continue working with GuySuCo.
During a previous meeting he had told the workers that they have two options; to be transferred to Uitvlugt or remain on the Wales payroll. They had agreed to work at Uitvlugt and be paid a sustainable benefit.
According to him, the workers had a meeting a few days later with a political activist and were told that the APNU government must pay them off.
During Thursday's meeting, all the workers were concerned about is that they be paid their severance benefits, in accordance with section 12 of the Termination of Employment & Severance Pay Act.  The Act states that if the nearest estate for alternative employment is more than 10 miles away, the workers have to be paid severance benefits.
Should they be paid, their services would have to be terminated but President of the Guyana Agricultural & General Workers Union, Komal Chand had told Stabroek News that they cannot be discriminated against and GuySuCo can re-employ them.
Senior Communications Officer of GuySuCo, Audreyanna Thomas said though, that it would not be wise to "terminate the services of the workers and pay them severance benefits when another estate a few miles away has over 400 vacancies and needs their services."
She added: "The severance is a one-off payment but keeping the employees in our employ ensures they have secured employment."
She said too that Uitvlugt has the wettest estate and is labour intensive and needs the labourers in order for it to achieve its objectives.
In terms of the meeting achieving its objective, Thomas said while that cannot happen in one meeting, it has achieved it somewhat, with the workers being able to see what is happening with the UEIP.
During the meeting, the workers asked what encouragement the corporation has to offer them to accept jobs at Uitvlugt but they were not provided with answers.
Thomas later told the media that that if the workers achieve their target they would benefit from the Weekly Production Incentives while they can also work for other incentives.
Other benefits, she said, include free medical services for them and their families. She also encouraged the private cane farmers who were supplying cane to Wales to continue at Uitvlugt.
Sukhu pointed out that while they have been refusing to go to Uitvlugt, the workers from the Skeldon estate, which did not have a first crop, were sent to the Blairmont, Albion and Rose Hall estate to work.
Previously, he said the Wales workers who are refusing to go to Uitvlugt were sent to Enmore and other estates during the out-of-crop season, to work and were paid a disturbance allowance.
He is not sure why the workers are refusing to go to Uitvlugt, and said that he is convinced that the work at Uitvlugt currently is far better than it was at Wales.
He said GuySuCo would provide them with transportation and said they are free to register as Uitvlugt employees. But if they remain at Wales, they would be paid a transportation allowance.
Around the Web