A 29-year-old Guyhoc Park resident is now dead and another man is critically injured following a stabbing incident on Friday afternoon at Water Street, Stabroek, Georgetown.
Sheldon Daniel Braithwaite, also known as "Chicken man", a poultry farmer/seaman of Lot 129 Mazaruni Street, Guyhoc Park, Georgetown sustained several stab wounds about his body. He succumbed to his injuries hours after the incident while undergoing emergency surgery at the Georgetown Public Hopsital (GPH).
The injured man has been identified as 41-year-old Troy Maxwell. He, too, was taken to the GPH, where he remained in a critical condition up to yesterday afternoon.
The incident, which occurred around 4.30 pm on Friday in the vicinity of the Guyana Fire Service Headquarters, was witnessed by one of Braithwaite's brothers, Kevin Braithwaite, who ran to his rescue. In the process, he managed to disarm Maxwell, who he allegedly dealt several stab wounds with the said knife.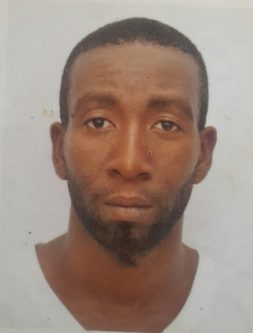 The knife, the suspected murder weapon, was recovered at the scene and police said that Kevin was on the run.
While the details surrounding the argument remain sketchy, Stabroek News understands that Braithwaite was walking in the area when Maxwell's pushcart, which he operates in the market area, reportedly ran over his foot.
Maxwell refused to apologize and an argument ensued between him and Braithwaite, during which he allegedly stabbed Braithwaite about his body. On witnessing this, Kevin went to his brother's aid, allegedly disarmed Maxwell and stabbed him causing him to fall to the ground.
The Braithwaites then went south along Water Street.
When Stabroek News visited the scene, persons were tightlipped about the incident. Several of them claimed that they only learned what had transpired after they saw Maxwell lying on the ground.
At the dead man's home yesterday, his father Andrew Braithwaite said the family was still trying to come to grips with his death.
Andrew explained that he last saw his son alive on Friday morning when he left home for his brother's place in River View, Ruimveldt where he reared his chickens. "It's customary he would go there because there is where he does mind his lil chickens and so. Is my place but one of his brothers lives there," Andrew said.
The grieving father explained that apart from his full-time job he sells food on Ramp Road, Ruimveldt. "Is finish work I did just finish and normally I does come home and collect the food to go sell but that day [Friday] I was feeling tired so I went straight to the [food stall] and I was relaxing," he said.
He added that he later decided to go to River View where he enquired about Sheldon. "I go there and when I ask for Sheldon but they say they ain't know where he is so I left saying he mussy gone somewhere and he will come back," Andrew said. A few minutes later, he recalled, he received a call from his daughter who told him that Sheldon had been stabbed and was at the hospital. She also told him that he needed blood.
The daughter, who did not wish not to be named said she learnt of the incident when a man who identified himself as the driver of the car that took Sheldon to the hospital called her. "The car man call me and tell me to talk to my brother [Kevin] because he was [also] in the car," the sister said.
She said when she spoke with Kevin he told her that Sheldon had been stabbed and he was taking him to the hospital.
The woman said she and other relatives immediately left for the hospital where they learnt that Sheldon needed seven units of blood. "We were making arrangements to get the blood the next morning [Saturday] but he died Friday night like couple minutes after we left the hospital," she said.
On Saturday morning, she said, "We go straight to the theatre because they told us they would keep him there till the next morning and they would put him in the ICU. And then we got the devastating news."
The police have obtained several statements and investigations are ongoing.
Sheldon Braithwaite, who was described as a very hardworking individual, leaves to mourn his parents, three siblings and his six-year-old son. His body is currently at the hospital mortuary awaiting an autopsy which is scheduled for tomorrow.
Around the Web